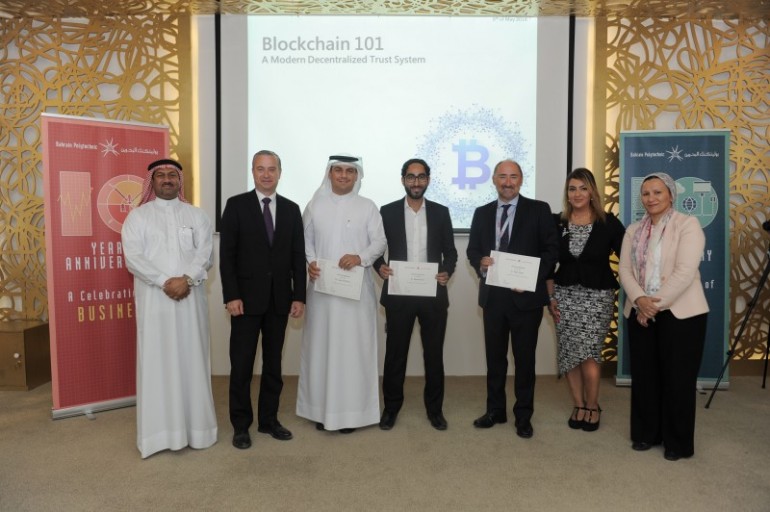 In collaboration with Bahrain SMEs Society, Bahrain Polytechnic hosted a seminar titled "Eliminating the Middle Man: The Blockchain Revolution" on 8th May 2018 at the campus, where several speakers delivered presentations to students about blockchain technology.
Blockchain Technology is increasingly being used in organizations, and the Polytechnic invited keynote speakers to deliver a presentation regarding its importance and how to develop a blockchain application.
Dr. Jeff Zabudsky, CEO of Bahrain Polytechnic, commented: "We invited these speakers with a wealth of knowledge and experience at the Polytechnic in order to teach our students about blockchain technology. We want to produce work-ready graduates who are up-to-date on the latest trends in the market, and by hosting these kinds of workshops, we can deliver new and useful information to our students.
"I would like to thank Bahrain SMEs Society for their collaboration and would like to thank all the speakers for participating at this workshop." concluded Dr. Zabudsky.
Dr. Abdulhasan Al-Dairi, President of Bahrain SMEs Society, commented: "it's our great pleasure to collaborate with Bahrain Polytechnic in organizing such important event which discussed the most recent development issues in digital financing operations and Fintech. Such events would indeed help the students to be acquainted with the recent development in the field, hence make them preferred by the employers for the job".
The speakers were Dr. Simon Galpin, Managing Director of EDB; Ameen Altajer, Managing Director of Infiniteware; and Fawaz Shukralla, Head of IT at Bahrain Institute for Political Development.
Posted on 5 June, 2018 in News