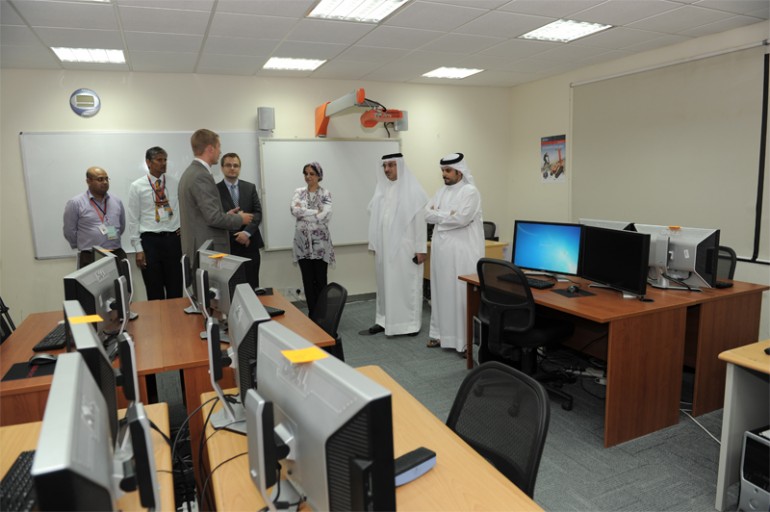 In cooperation with CADCAMCIM, Bahrain Polytechnic officially opened the SolidWorks Training Center at its campus after a memorandum of understanding was signed on 17th June 2015, giving engineering and design students the opportunity to become more productive by taking advantage of 3D technology in their projects.
SolidWorks is a 3D computer-aided design (CAD) software that delivers powerful design functionality which provides solutions for the creation of parts, assemblies or 2D & 3D engineering drawings. The software teaches students to understand the real-world mechanics of science, technology, engineering, and math.
CADCAMCIM will offer various programs to the Polytechnic's students. One program would be the CSWP preparation (Certified SolidWorks Professional), which entitles the student as an individual who has successfully passed the advanced skills examination. Another program is the SolidWorks Simulation, where a student is given an exam to test their understanding of various types of simulation scenarios.
According to Dr. Mohamed Al Aseeri, Acting CEO of Bahrain Polytechnic, adding 3D technology in the student's projects will bring their designs to life and will add a creative touch on their work.
"We are pleased to have signed with CADCAMCIM to open the SolidWorks Training Center, where our students will certainly benefit from its programs. Using this technology would allow our students be creative with their work and produce a high standard project which meets the labor market requirements.
"We already have an Innovation Lab at the campus for our ICT students to use; several whom have already come up with projects that the Polytechnic uses today.
"Fostering work-ready graduates has always been part of our strategic plan, as it meets the goals of the government action plan 2015-2018 and the Bahrain 2030 Vision." concluded Dr. Al Aseeri.
Posted on 17 June, 2015 in News