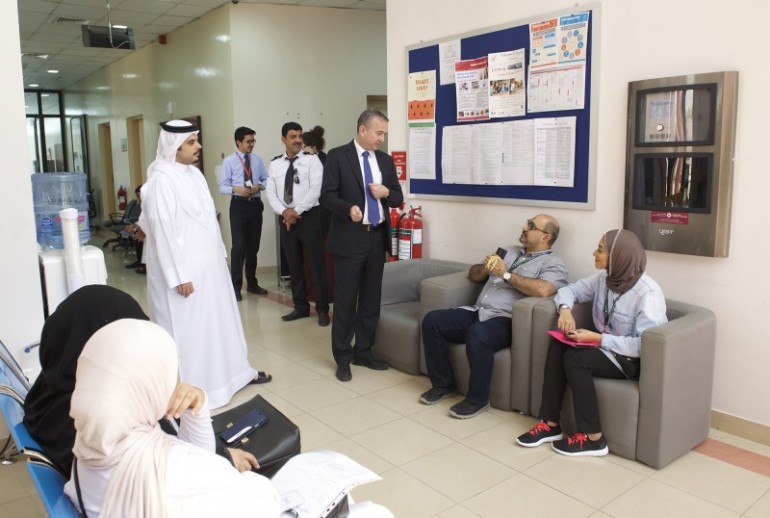 Dr. Jeff Zabudsky, CEO of Bahrain Polytechnic, and Sh. Ali bin Abdulrahman Al Khalifa, Deputy CEO of Resources & Information Affairs, visited the Student Information Centre to inspect the applicant acceptance process for the next academic year 2017-18.
The process began on Sunday, 16th July, and will continue until Thursday, 27th July. During the inspection, the executive management met with students and their parents on their views regarding the acceptance process and the Polytechnic in general.
The parents and students commented that they were delighted to have received the admission letter due to the Polytechnic's reputation to produce work-ready graduates, and some of them commented on the ease of the admissions process and the professionalism of the registration staff.
Ahmed Malalla, Registry Director, urges the students who received their letter of acceptance by email must confirm their offer to the Polytechnic before the deadline on Thursday, 27th July 2017, stressing that no applicant will be accepted after the mentioned date. The Polytechnic will then begin to contact the second batch of students on the waiting list.
Mr. Malalla confirmed that the applicants can view their admission decision on the Polytechnic's website, including the necessary steps to be taken once accepted.
Mr. Malalla stated that the acceptance process has been eased as a result of the one-stop service, which allows students and their parents to complete acceptance process, payment of tuition fees, and receiving the student ID at the same time. This eliminated a lot of time and effort for both the registration staff and the students and their parents.
At the conclusion of their visit, Dr. Zabudsky and Sh. Ali Al Khalifa expressed their appreciation to the Student Information Centre for their efforts to ease the admissions process. They also congratulated the new students for joining the Polytechnic, wishing them success throughout their academic journey.
Posted on 27 July, 2017 in News