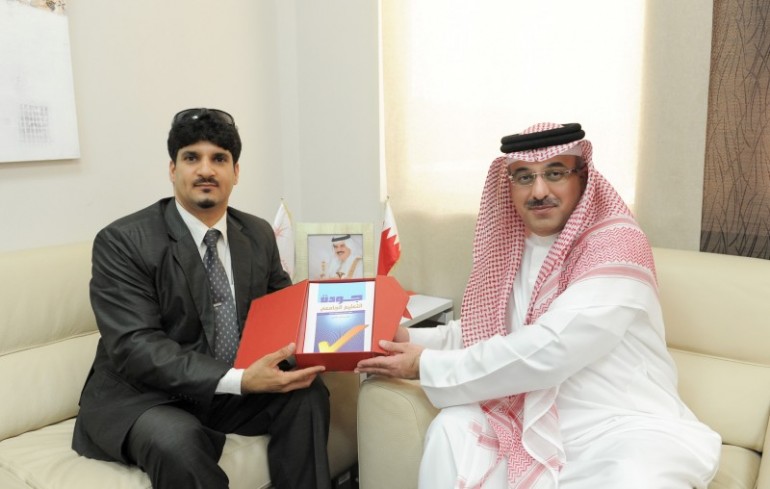 Acting CEO of Bahrain Polytechnic, Dr. Mohamed Al Aseeri, received Dr. Jassim Al-Mahari, a researcher in academic affairs, at the campus on 1st September 2015 in order to present the Polytechnic with his book on "The Quality of Higher Education – Theoretical Concepts & Practical Applications".
During the meeting, Dr. Al Aseeri and Dr. Al-Mahari discussed about the various concepts and issues addressed in the book, as well as how to seek to improve the educational level in the Kingdom of Bahrain, particularly in higher education. They also spoke about other areas related to upgrading the quality of learning outcomes in the Kingdom. The Acting CEO also explained the role Dr. Al-Mahari plays in strengthening the position of the Kingdom through educational research.
At the end of the meeting, Dr. Al Aseeri praised the valuable content of the book, which contains lots of information in the field of education in Bahrain.
With that, Dr. Al Aseeri called on Dr. Al-Mahari to present his findings to the students of the Polytechnic, which will include workshops and panel discussions. He concluded the session by wishing him success for the future.
In turn, Dr. Al-Mahari expressed his sincere appreciation to Dr. Al Aseeri for the invitation, as the workshop will certainly strengthen the relations between students, where he can reply to queries and seek different views regarding the concepts mentioned in the book.
Posted on 1 September, 2015 in News