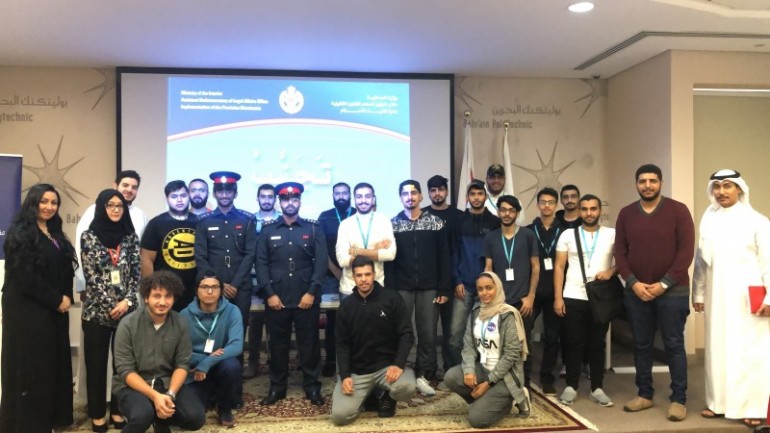 Bahrain Polytechnic has hosted a legal awareness session 'Avoid' by the Directorate of Verdicts Implementation- Ministry of Interior on Sunday 25th November 2018 at Al-Dana hall at the Isa Town campus.
The awareness aims to raise public awareness regarding the consequences of neglecting to read a contract before signing it, non-compliance with a contract, neglecting to appear at court upon summons, ignoring communication from official authorities, neglecting to seek legal advice in the absence of knowledge pertaining to any clause in any contract, and to avoid transacting with unlicensed entities.
The awareness session was delivered by Capt. Abdullatif Sater and Capt. Nasser Al-Kubaisi, who discussed the legal obligations in the daily life and how to be protected from any susceptibility to fraud or accountability and liability.
It's worth mentioning that the awareness campaign "Avoid" has been launched by the Director of Verdicts Implementation Shaikh Khalid bin Rashid instruction, to inform people about the important legal steps that need to be followed to avoid being held accountable by the law.
The campaign includes various awareness tips, including encouraging people to carefully read any contract before signing it, obey its terms and avoid missing a court hearing.
The campaign will continue to host awareness activities to university students as well as all ministries and government agencies to ensure that the campaign reaches the targeted age group.
Posted on 3 December, 2018 in News