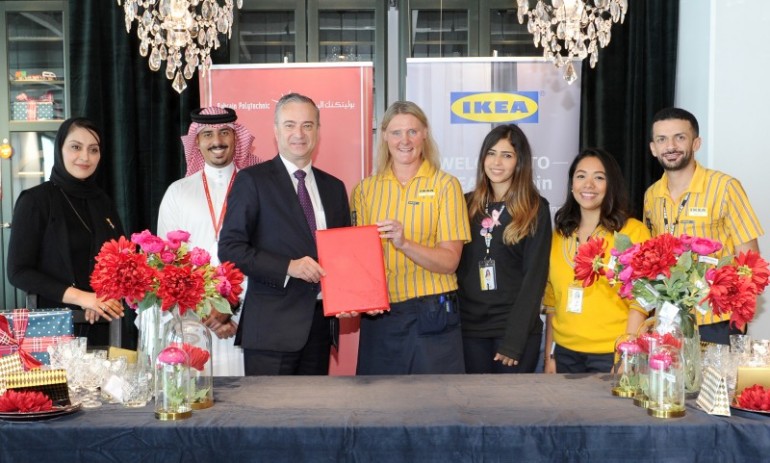 Bahrain Polytechnic signed a memorandum of understanding with IKEA Bahrain at their offices in IKEA Showroom at Salmabad, where Polytechnic students will have the opportunity to develop their skills and improve their employment prospects in connection with the industry.
IKEA will offer the Polytechnic students internship opportunities, work placements, cooperative projects, on the job training, and part time and summer jobs. Additionally, IKEA will provide the Polytechnic with guest speakers to share their knowledge and expertise with students and staff.
On this occasion, Dr. Jeff Zabudsky, CEO of Bahrain Polytechnic, stated: "We have received positive feedback from our graduates who works now with IKEA Bahrain. I believe signing this memorandum with IKEA Bahrain will give our students the opportunity to develop their skills and improve their employment prospects with the industry. I'd like to thank IKEA for their support and cooperation." concluded Dr. Zabudsky.
Fatima Gustafson, Store Manager of IKEA Bahrain stated: "Signing this memorandum between us and the Polytechnic showcases our contribution to the to the Kingdom's strategy to create more job opportunities. We have been working very closely with the Ministry of Labour and universities to recruit Bahrainis, and now IKEA has provided 320 jobs to the local market since its opening.
IKEA is a Swedish-founded multinational group that successfully created affordable home-furnishing solutions for the many people.
The impressive two-storey structure set on a total retail area of 37,000 m2 includes a showroom, market hall and self-serve section. The facility also includes 50 room settings showcasing inspiring home furnishing solutions, a restaurant with a capacity of up to 650 seats and 1200 parking spaces.
Posted on 3 December, 2018 in News