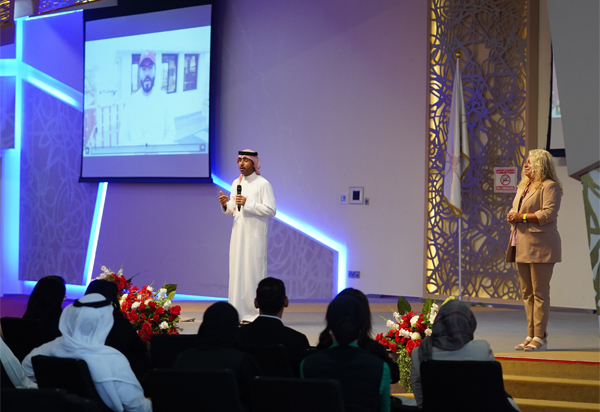 Bahrain Polytechnic held the orientation day for more than 290 students recently enrolled in both the Master programmes as well as the Top-Up programme that   provides holders of diploma or higher national diploma with a path to top-up their existing qualifications and obtain bachelor's degree. The orientation day was held to introduce candidates to the program content, teaching methods, and the qualifications expected to be obtained upon completion of the programmes.
On this occasion, Mr. Abdul Ridha Dismal, Director of Lifelong Learning at the Polytechnic, said: "Since the launch of the programme a year ago, it has been very well received by diploma holders, where it received more than 500 applications of diploma holders from Bahrain and the Gulf countries. This confirms the Polytechnic commitment to promoting a culture of lifelong learning. It also reflects the positive impact of the Polytechnic on society by providing learning and reskilling opportunities for all".
"The same positive impact was received upon the launch of the Polytechnic Master programmes in July 2023, and which includes: the Master's in science in Engineering (Applied) in Sustainable Energy Systems, Masters in Science in Artificial Intelligence, and the Masters in International Trade and Strategy" Dismal added, and explained that "by launching these programmes, the Polytechnic aims to meet the renewable demands of the labour market, and to achieve the Polytechnic Strategic Plan 2023-26 which is compatible with Bahrain Economic Vision 2030 that seeks to create an effective education that contributes to the comprehensive sustainable development process, while ensuring the development of the human element in accordance with the directives of the esteemed government".
Dismal emphasized that "the programmes are designed to provide students with the knowledge and skills required for success in today's rapidly developing labour market".
As for the Top-Up program, Dismal said that "it qualifies diploma holders to obtain a bachelor's degree within two years following a foundation semester, taken at a nominal fee and with evening classes that are more convenient to working candidates" adding that "students often find it difficult to get recognition for their previous studies or Diploma certificates".
It is worth noting that the Polytechnic is offering various customized programs and accredited short courses, that meet the requirements of companies aiming to improve the skills of their employees, or for individuals looking for career progress and personal development, providing the labor market with highly qualified candidates in various fields, and supporting the national economy in the Kingdom of Bahrain.
Posted on 2 November, 2023 in News