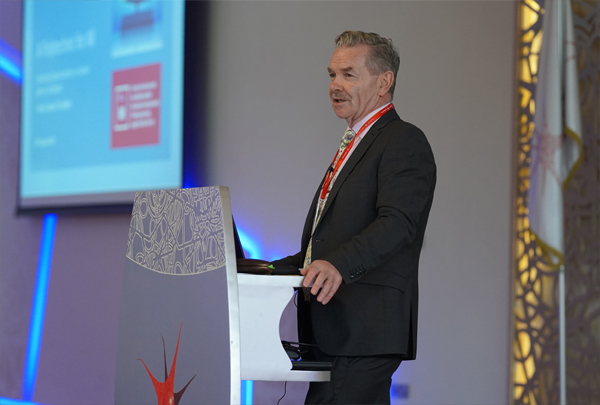 Bahrain Polytechnic Deputy CEO of Academic Affairs and Registrar Dr. Louise O'Nolan, said that "A Polytechnic for All" symposium means that "the Polytechnic is offering various educational training programmes at all levels, to contribute to the economic development in the Kingdom of Bahrain, by creating effective education that contributes to the comprehensive sustainable development, and ensures the development of the human element in accordance with the directives of the esteemed government.
"During the last academic year, the Polytechnic introduced many initiatives to enhance the "Polytechnic for All" concept, these included: the Top-Up programs, the Master's degrees, the part-time studies and the Conversion programs. This step is taken in response to the renewal requirements of the labour market, and to achieve the Polytechnic Strategic Plan 2023-26 which is compatible with Bahrain Economic Vision 2030.
Dr. Louise statement came on the end of the international symposium which was held by the Polytechnic over two days under the title "A Polytechnic for All:  Unlocking Opportunities in a Varied Labour Landscape" and witnessed the participation of international academic speakers and several of the Polytechnic academics, and a distinguished attendance of more than 400 academics representing several higher education institutions in Bahrain (attended the symposium), in addition to 150 international academics (online attendance).
The symposium has witnessed distinguished participations of international experts and academics, including: Dr. Jan McArthur, Senior Lecturer at Lancaster University who talked about the AI era addresses the education for all concept and what should assessment look like in an applied higher education institute; Professor Anasse Bouhlal, Programme Specialist at Higher Education and TVET, who spoke about education for all: the UN perspective; Dr. Henk Huijser, Strategic Lead Learning and Teaching Development at Queensland University of Technology, who discussed the problem-based learning approach; Dr. Yaping Gao, Vice President at Quality Matters who addresses the engagement of learners in all delivery modes, and the Head of Innovation at AWS MEA, Mr. Nidal AlBasha, who discussed the new era of leaning needs in the labour market.
In addition to that, Bahrain Polytechnic Deputy CEO of Academic Affairs and Registrar Dr. Louise O'Nolan, confirmed that the symposium has a positive impact as a result of the efforts of the participants in addition to their scientific contributions through their submitted research papers, adding that the Polytechnic is keen to organize conferences that enhance progress of the educational and academic field, supports researchers and academics developing their skills and capabilities, contributing to the building of an economy based on knowledge and skills.
Posted on 2 November, 2023 in News