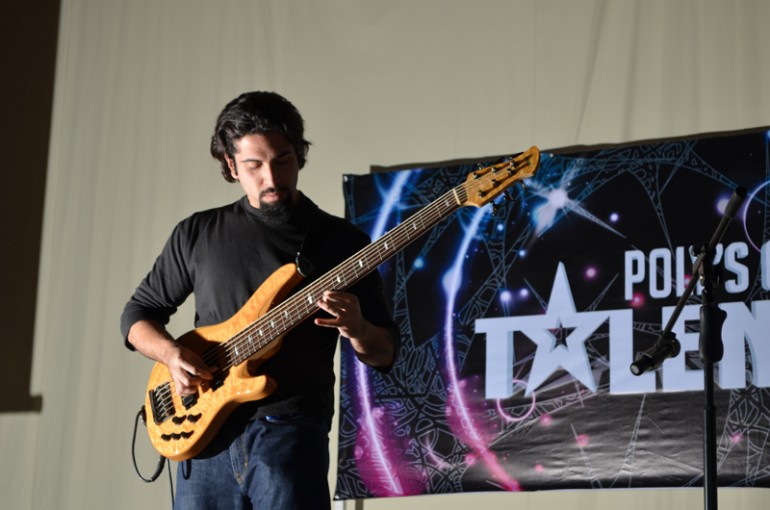 The Web Media students of Bahrain Polytechnic hosted a talent show competition on 29th May in their campus, where many performers showcased their talents in front of more than 500 students and staff members, consisting of many categories, ranging from instrument-playing and singing to beat-boxing and magic tricks.
Following the traditional and popular talent show format, including auditions, pre-recording of students and judges, 20 performers battled it out for the grand prize, which entertained a full-house audience.
"We told our Web Media students to come up with a project, which would involve putting on and recording a live event, and together, we developed the proposal to host this talent show. Collaborating with the Bahrain Polytechnic Student Council (BPSC) elected last April, they managed to set up the entire process from scratch, including lighting, sound, video cameras and catering." commented Owen Gallagher, Web Media Tutor of Bahrain Polytechnic.
Organized by just 12 students and their tutor, with assistance from the BPSC, not only have they earned credits for their inventive assignment, but they have earned the possibility of hosting the show at the end of every semester, as a satisfied crowd, which exceeded the expected number of attendants, encored the interactive and enjoyable competition in the end.
"This just goes to show how creative our students can be. Using social media platforms such as Instagram, Twitter, Facebook and YouTube, they got their project known even outside the Polytechnic. We train and encourage our students to think outside the box and come up with these imaginative ideas and I'm very proud of all of them." concluded Owen Gallagher.
Finishing first place is the guitarist and singer Hameed Al Saeed, followed by second placed duo rappers Dhahi Juma & Abdulrasool Shukrallah and third placed beat-boxer Bader Jamal. The first, second and third place contestants earned their cash prizes of BD 150, BD 100 and BD 50 respectively.
The whole competition can be viewed on the Web Media students' YouTube channel, "PolysGotTalent".
Posted on 30 May, 2013 in News