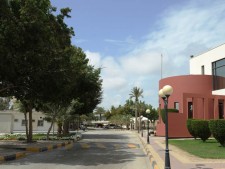 Bahrain Polytechnic, in collaboration with AIESEC, hosted the 'Global Village' at their campus on 4th June, bringing together ten different nations in attempt to promote AIESEC's Leap Programme.
The event, titled 'International Cultural Market', was the highlight of the day at the Polytechnic which attracted an audience of more than 500 students. The four hour session concluded with smiles and joy, as international stalls, photo booths and live performances entertained a full house crowd.
"We are glad the event turned out well. Our team worked very hard to get the 'Global Village' known using various social media networks." stated Khalid Al Soufi, Vice President of Corporate Communication of AIESEC Manama.
AIESEC have organized the event with an aim to promote AIESEC's Leap Programme, where participants work on Social Development projects abroad on a six to eight week international internship to countries such as China, India and Malaysia.
"Entertainment played a big role in attracting the students to the occasion. We have promoted the program successfully and I'm proud of the passion and dedication our team has given to make our work a thriving one." concluded Mr. Al Soufi.
Bahrain Polytechnic's Manager of Student Welfare, Hussain Seroor, was quick to praise the creative young team and said, "The group has managed to sort out the entire event from the beginning to the end. Effective time management skills have helped them organize the event in a matter of two weeks.
"We encourage our students to use their creativity to come up with fantastic events such as this one." concluded Mr. Seroor.
Mr. Khalid Al Soufi and Mr. Hussain Seroor expressed their thanks to Bahrain Polytechnic's executive management for the generosity and great support.
Posted on 4 June, 2013 in News