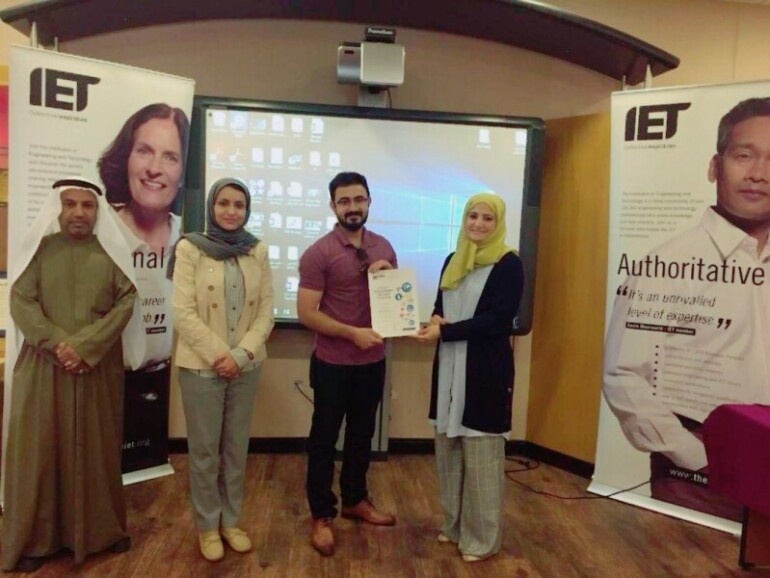 Mohamed Salah, third year engineering student at Bahrain Polytechnic, won 1st place in the local Present Around the World (PATW) Competition which was held at Bahrain Society of Engineers and organized by the Institution of Engineering and Technology (IET).  Around 30 graduates and students were competing in the National PATW competition from different universities.
Mohamed Salah's presentation was regarding renewable energy applications and how his project "The Pipeline Electrifier" would contribute towards it.
The judging was based on the presenter's presentation skills (70%) and technical knowledge (30%). As Mohamed has won the national competition, he has qualified to participate in the regional competition in order to lead to the PATW Global Final.
Dr. Christina Georgantopoulou, Bahrain Polytechnic's Head of School: Engineering, congratulated Mohamed Salah for winning the local competition and qualifying to the regional edition, and wished him all the best to progress towards the global finals.
She stated: "This achievement, creativity, and innovation is not new to our students. Our curriculum, and the methods we use in our teaching approach, is built in a manner to strengthen students' skills in order for them to be work-ready graduates which can implement what they have learnt in a real business environment."
Dr. Christina Georgantopoulou thanked the IET for organizing the competition, which contributes to building bridges among universities, and encourages students to participate in activities that enhance their experience.
The IET's Present Around the World (PATW) is a well-established competition designed to encourage young engineers and technicians to develop their ideas and presentation skills. The competition focuses exclusively on enhancing students' communication skills, presentation skills, and creative ways to present their ideas.
Posted on 30 May, 2019 in News