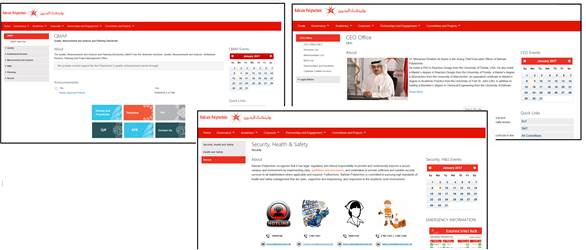 "As part of achieving the Bahrain 2030 and the recommendations of His Royal Highness Prince Salman Bin Hamad, the Crown Prince in the first Intergovernmental Forum, which stressed on the importance of transparency, communication and continuous services improvement, and in line with our internal communications strategy, Bahrain Polytechnic have developed its internal staff Web application platform built on SharePoint" confirmed Dr Al Aseeri, ACEO.
The new collaboration and sharing platform features a user-friendly interface for comfortable browsing, where information is secured and easily accessible by staff.
Mr Ahmed Janahi, Marketing and Communications Manager explained "The project first started with an intensive stakeholder's discovery process and subsequently implemented the new sitemap, standard design for sites and sub-sites, following the Bahrain Polytechnic brand guidelines."
"Information Architecture is another area we reviewed as we needed to embed version control and deletion policy, files and folders naming conventions, folder structure across all directorates and faculties. All this in an attempt to prevent loss of knowledge and sharing expertize in various areas. " Dr Reem Al Buainain, Quality, Measurement, Analysis and Planning Director expanded.
Following the Discovery Process, an intensive site owner and end user training for around 90 staff took place, more scheduled during the year 2017 as part of the knowledge transfer and continuity process.
"ICTS played an important role during the project in the site creation, coding, setting permissions, assuring Backups" Ms Sameera Al Atawi, ICTS Director explained. "ICTS initially did the architecture, design, and install the base site for the Project team to work on migration. After we fully migrate and launch all the sites, ICTS will support end users in their daily operation on SharePoint. We have assigned 3 staff working to support the project: Ms Manar Al Seddiqi, Ms Israa Tageldin and Ms Anjali Sajan. They have all worked so hard in supporting site owners during the site creation and migration phase"
"The project is 75% completed" expanded Ms Rasha Al Amad, SharePoint Project Manager.  "All Directorates, Departments and Faculties have completed site creation and setting permissions.10 sites belonging to different Directorates have now migrated their data and now accessible by staff. While another 8 site are still in progress to be completed by mid-2017"
"Staff can visit the pages within each site, and access folders, documents and lists depending on set permissions. These can always be changed upon staff resignation or relocation upon receiving a request from the site owner" Ms Sameera Al Atawi added.
"Our aim is to deliver a user-friendly interface driven from our design approach – simplicity and functionality. We wanted to provide users an easy access to various sections, graphics and downloadable materials, which can save time, efforts and reduce the exchanging of emails among departments to request such materials by making it available on the SharePoint. Not only did we focus on the design, but the content within was selective to make sure staff get information as quickly as possible. Most importantly is ease of access of Forms for relevant services offered by each Directorate" added Mr Hussain Al Ghanim and Mr Amer Bitar, both project team members from the Marketing and Communications Department.
Another major area organized was Ad-hoc committees and Standing committees. Each committee now has a shared working space amongst its members with agenda items, approved minutes and resolutions. Bahrain Polytechnic is also looking into the possibility of initiating Phase 2 of the project to automate forms and embed workflows for easier approval process and to reduce the amount of paper work and effort.
Posted on 2 February, 2017 in News