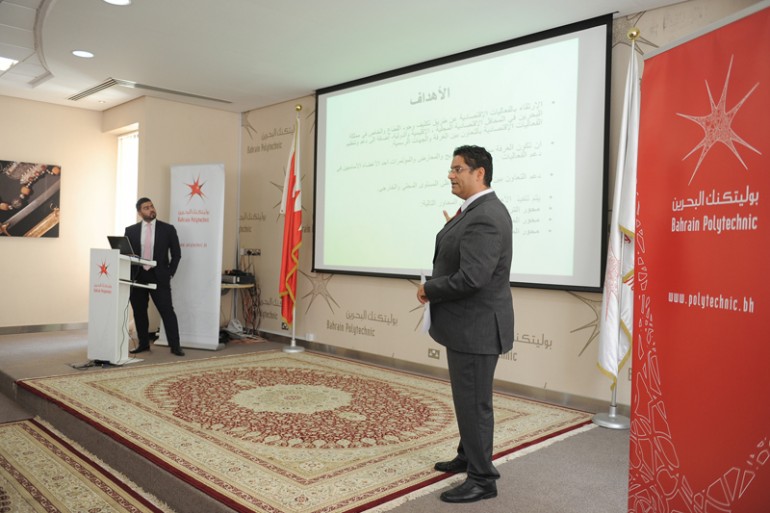 Bahrain Polytechnic hosted two events which aim to educate its students about entrepreneurship and the types of support available to start a business within the Kingdom of Bahrain.
The Polytechnic's Career & Employment Centre, supported by the Curriculum Advisory Committee, organized a workshop to graduates and forth year students where guest speakers Hussain Janahi, Mohammed Janahi, and Ridha Monfaridi shared their success stories. Ali Sarhan explained to the students about how to receive a commercial registration, as well as the various ways of receiving support from Tamkeen. Additionally, a number of Polytechnic students have participated in the entrepreneurship forum where they have encouraged other Polytechnic students to set up their own business by sharing their personal experiences in this field.
Additionally, the Student Services Directorate of Bahrain Polytechnic collaborated with the Bahrain Chamber of Commerce & Industry (BCCI) to launch the "Boot Camp" program for Polytechnic students whom are interested in the food and agriculture industry in order to transform their business ideas into operational businesses in which they would be provided with training and mentoring for two months. In addition, they will receive support as to source finances, setting commercial registration and executing the business.
On this occasion, Ema Janahi, Acting Director of Academic Development, gave her sincere thanks and appreciation to the lecturers and the representatives of the participating institutions for supporting the Polytechnic. She added that these events will benefit the new generation to have the necessary skills to compete in the labor market immediately after graduation, which in turn achieves the Bahrain 2030 Vision.
Posted on 4 April, 2016 in News