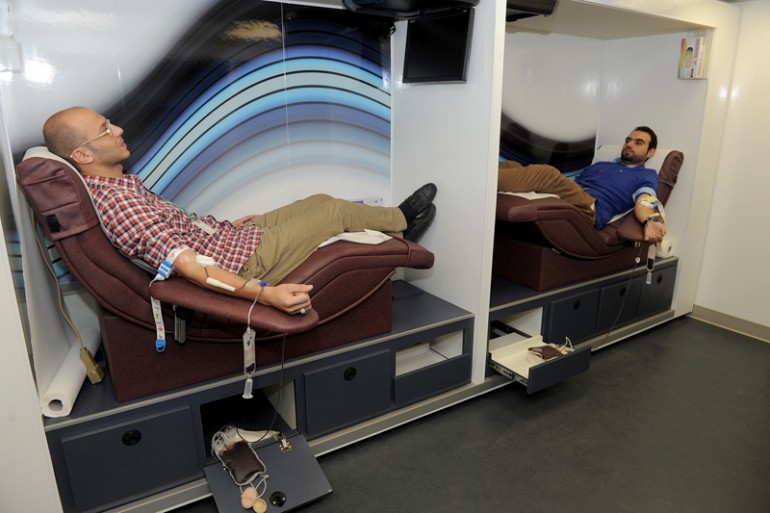 Bahrain Polytechnic, in collaboration with the King Hamad University Hospital (KHUH), organized its yearly blood donation campaign on 5th April 2016 from 11 AM – 3 PM at the campus.
KHUH brought their mobile blood unit bus which was parked at the campus. Once staff and students were tested and had their vital signs taken, they went out to the bus and donated their blood. The bus contained 4 donor beds and 4 chairs for refreshment after donation. 60 students and staff registered and were screened, and 32 were able to donate their blood.
The campaign also helped inform blood donors of the importance of blood donation, its process, as well as removing any misconceptions related to it. Weight and height measurements were also taken to ensure a safe blood donation.
Dr. Nawal Zewayed, Director of Student Services at Bahrain Polytechnic, said: "The campaign has attracted a large number of students and staff who've all took initiative to donate their blood, knowing the massive contribution it would make to the society, as this community service will contribute to the treatment of patients.
"The executive management is keen on setting up this campaign on an annual basis, as well as participating in all activities and events that will serve the Bahraini community." concluded Dr. Zewayed.
For its part, the executive management, represented by Acting CEO Dr. Mohamed Al Aseeri, gave their sincere thanks and appreciation to the Student Services department, which took initiative in organizing such events and campaigns. They also thanked KHUH for cooperating with the Polytechnic; a collaboration which will benefit everyone in Bahrain.
Posted on 10 April, 2016 in News