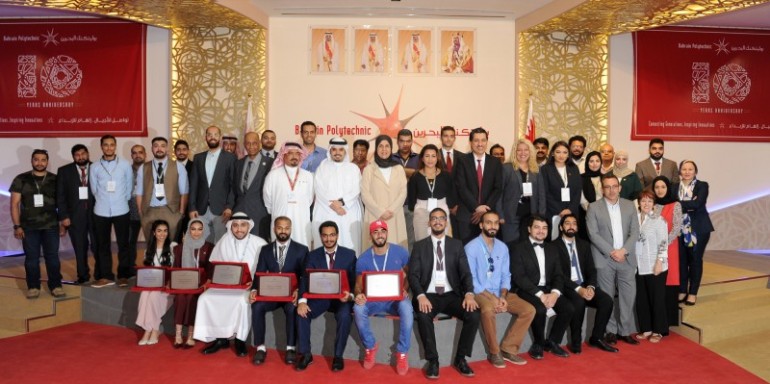 Bahrain Polytechnic hosted the 4th Engineering Project Exhibition at the campus on 3rd July 2018, where final year students from the Engineering programme presented their final industrial and research projects related to real life engineering problems in cooperation with leading industries in Bahrain.
The exhibition opening ceremony commenced with a speech given by Dr. Christina Georgantopoulou, Head of Engineering School, where she welcomed the audience to learn about this exhibition and how it benefits the students in terms of presenting their projects to potential employers.
The ceremony was attended by several keynote speakers, being Dr. Fatima AlBalooshi, CEO of Bahrain Trust Foundation; Mr. Faisal Khalifa, Managing Director of Solar One; and Dr Raed Almubarak, Chief Training Manager of EWA. Each of the keynote speakers delivered a short speech about the students' creative ideas which could be implemented as a real project, and how it could be a stepping stone to be entrepreneurs. Additionally, they spoke about the Polytechnic's quality of teaching methods that contribute to producing work-ready graduates that meet the labor market requirements.
Sh. Ali bin Abdulrahman Al Khalifa, Deputy CEO of Resources & Information Affairs, honored the speakers and awarded the students best projects. The awarded winners were:
Best Mechanical Engineering Industrial Project: Fatema Jahromi
Best Mechanical Engineering Research project: Zuhair Alasfoor
Best Electronics Engineering Industrial project: Sara Ebrahim
Dr. Christina Georgantopoulou has congratulated all the students for their hard work and mentioned the high quality and innovating projects development of this year in collaboration with leading Bahraini industries which prove the commitment of the Engineering School to produce work-ready graduates. Organizers of the event were Mrs. Basma Abusayam, Mechanical Engineering Tutor, and the Marketing & Communications Department of Bahrain Polytechnic.
Posted on 5 July, 2018 in News