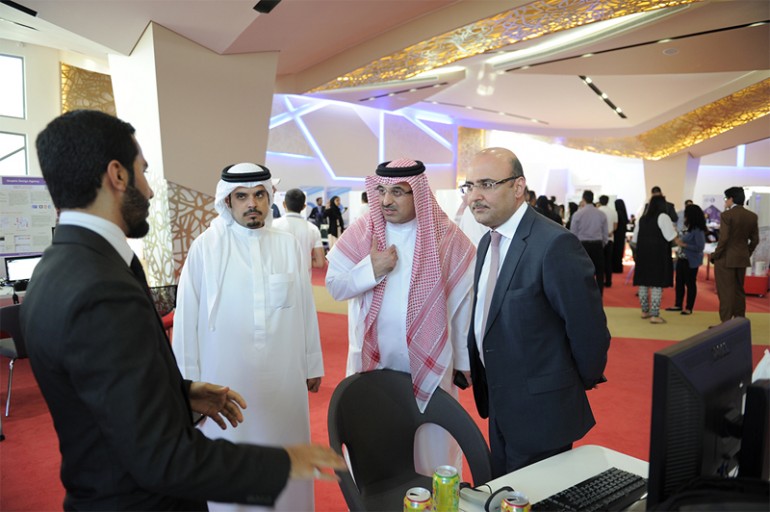 Bahrain Polytechnic's School of ICT and Web Academy is committed to engaging students through the teaching and learning philosophy applied in Bahrain Polytechnic. Students aim at developing ICT solutions that provide the greatest benefit to the society. The school holds its Project Exhibition twice a year at Polytechnic's main convention hall. Industry professionals from Bahrain and the region were invited to the exhibition.
This semester, the faculty proudly presented over 70 projects in a range of ICT categories including Software, Web-based applications, Mobile apps, Games, Networking, Management Information Systems (Software and Infrastructure), Security and Multimedia. These projects showcased the hard work and commitment students have exhibited over the semester, developing their employability skills and ensuring they will be work-ready graduates. The exhibition is a great opportunity for bringing industry, students and academics together. Projects are identified as ideal startups and students skills were spotted as talent acquisitions. The event was enriched by talks from sponsors, Mr. Ebrahim Talaq, Enterprise Services & Performance Management Manager in Zain Bahrain, Ms. Areije Al-Shakar, Assistant Vice President, Deputy Head, and Development Services in BDB, Mr. Mohamed Ali from Tamkeen all inspired students with their experience in the ICT field and their looking forward to Bahrain 2030 vision.
The In-house ICT Project students completed ICT Project within Bahrain Polytechnic. During the semester students attended interactive Project Management, Technical Writing and English Communication workshops following a problem based learning (PBL) approach. Additionally students received training by Bahrain Development Bank (BDB) – Technopreneur specialists Mr. Ali Al Majthoob, Ms. Mariam Al Saeed and Maryam Ishaq who delivered Elevator Pitch workshops.  During the Elevator Pitch training students were given directions on how to draw audience's attention to their solutions. The sessions were well-received by students. At the end of the session students were also encouraged to contact the training team of BDB for support. "The level of support Bahraini students received from BDB, Tamkeen and Zain helps us emphasize the importance of excelling and solving day to day problems with innovative solutions" added Mrs. Elgin VandeWiele, Year 4 English Communication Tutor.
Cooperative Learning Project students completed their work at industry placements. The placements followed thorough evaluation to best fit students' skills with clients' requirements. Local, regional and international companies (with headquarters in Bahrain) sourced students to join their teams and support their daily operations as well as develop working solutions. During the exhibition graduates continued providing smart technologies; Huda Alafoo (Programming graduate) developed a mobile application entitled "Project Locator" which can be found on Google play store. The application helped visitors and users navigate and share projects details. Fatima Sulaibeekh and Mareya Qasim (Visual Design graduates) designed a creative floor plan to help visitors find projects of their interest.
Industry partners from Bahrain and the GCC Region continue to encourage Bahrain Polytechnic students. Zain Bahrain, Bahrain Development Bank (BDB), Rukn and ADVANTI Systems sponsored the project exhibition as part of their contribution to Bahrain technology ecosystem.
Award winning In-house Projects and Cooperative Learning Projects were presented with the "Project of the Year" sponsored by Zain Bahrain. Three Cooperative Learning Project (CLP) projects were also awarded membership in Rukn offered by Bahrain Development Bank (BDB).
In-house Project course award winning "Project of the Year"(Name, Project Title, Category):
Mahmood Saeed Saleem AlSarhani, Conscious Heart Virtual Reality, Programming
Hawra Abdullah, Hotel Booker, Databases
Mohamed Ali Ebrahim Abdulla Ismaeel, Workflow and Document Management Infrastructure, MIS (Software and Infrastructure)
Budoor Jamal Ali Alshawoosh, Teleworkers, Networking
Meshal Naseem Mohamed, Sign Language Translator, Programming
Cooperative Learning Project course award winning "Project of the Year"(Name, Project Title, Category):
 Husain Alaam, ARIMA Insurance Software, Programming
Husam Yusuf, APM Terminal, Databases
Saud Hamad Salem Saleh, General Directorate of Nationality, Passport and Residence  – IT Department, MIS (Software and Infrastructure)
More information about the Year 4 Project Exhibition (School of ICT and Web Media) is found on this page
Speakers
Areije Al-Shakar, Assistant Vice President, Deputy Head, and Development Services, Bahrain Development Bank (BDB)

Ms. Al-Shakar has recently completed her fifth year at BDB where her role and involvement at the bank includes training, coaching, business guidance and advisory, and business development.  In her employment, Ms. Al-Shakar works closely with entrepreneurs on a daily basis, coaching and advising them on various areas of the business cycle beginning with start-up through to growth, expansion, and even turnaround management. Her role also involves the development of programs, products, and services to support entrepreneurship in the country which include the establishment of incubators, clusters, and other associated initiatives. In addition, within the Development Services Division Ms. Al-Shakar's work involves close interaction with network organizations formulating various training programs and seminars for special topics on entrepreneurship with the aim of building awareness and fostering an entrepreneurial culture.

Mohamed Ali, Tamkeen

As an entrepreneur himself; with more than 10 years of experience in the fields of youth empowerment, career guidance and human resources development; Mr. Ali has vast experience in the developmental areas of youth. Currently working very closely with youth initiatives, job seekers and young entrepreneurs, as a Community Advisor in Tamkeen, his role supports projects and initiatives which feed the development of these segments.
Testimonials
"It gratifies mention that the management of the company has recognized BICT Cooperative Learning Project (CLP) Student Husam Yusuf outstanding efforts.  The company has vigilantly monitored and evaluated his performance the past three months.  It was analyzed that he showed persistent efforts and self-driven qualities. His performance was exceptional.  Employees like him who work with sheer dedication are an asset to the organization.
I am feeling very proud to add that the project he submitted was excellent, he showed dedication, perseverance and willingness to complete in the given period. He is highly motivated and would be appreciated in any company as he was a great attribute to our organization in such a short time"   Maroua Ouerghemmi, Reliability Engineer, APM Terminals Bahrain
"My original background in Telco's and networking, my early presence in the internet industry, and my recent move into the gaming industry ensured that I was really taken by the various projects that the students did, many of which have a definite business / commercial / social value… Congratulations!" Ms. Helene Poirier, Head of Operations, Red Stallion Interactive
Posted on 10 June, 2015 in News