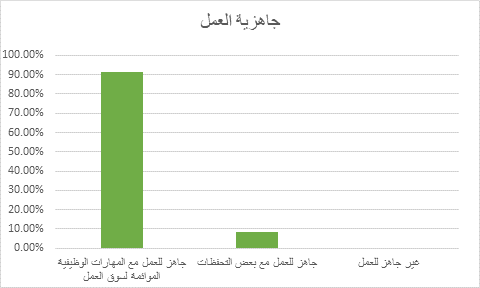 In a survey conducted by Bahrain Polytechnic to measure the employability skills of its graduates who have obtained jobs from the perspective of their employers, the results showed that about 90% of employers believe that Polytechnic graduates are between those with professional employability skills and which fit the needs of the labor market. This indicates a significant improvement in the employability skills of graduates compared to 2018.
For her part, Bahrain Polytechnic's Industry Liaison Manager Ms. Maryam Baqer explained that since the establishment of Bahrain Polytechnic in 2008, it aimed to meet labor market needs by producing more graduates with technical and practical experience, where eight employability skills have been included in the curriculum to ensure the graduate's readiness to engage in the labor market. These employability skills are: teamwork, communication, learning, planning and organizing, initiative and enterprise, technology, self-management, and problem solving. She noted that the purpose of this survey is to determine whether these eight employability skills provide work-ready graduates from the perspective of employers, and to compare them with the results of the 2018 employer survey.
She added: "Measuring the eight employability skills that the Polytechnic focuses on, findings have shown a pattern of improvement across all areas of those skills compared to the previous survey (2018) as graduates scored high satisfaction rates across all categories with minor dissatisfaction rates in some sub-categories. Bahrain Polytechnic graduates demonstrated high employability skills and work-readiness in the areas of teamwork, communication, initiative and enterprise, critical thinking and problem solving, and ethical and efficient use of technology. However, employers have also identified certain areas for improvement such as the pursuit of professional development and setting learning plans, self-management, and some planning and organizing skills. Contrasted to literature and international practices, Bahrain Polytechnic graduates have generated positive findings in employability areas considered as gaps. However, there are several factors that influence the degree to which undergraduates may absorb such skills, such as the cultural background of students, their educational background and level, work experience, and activities beyond work and education. The aim of this survey was to delve deeper into the findings and propose recommendations for improvement that may potentially lead to enhancing employability skills of students in a tertiary educational institution, particularly, at Bahrain Polytechnic.
It is noteworthy that Bahrain Polytechnic invests in the work-readiness of its graduates by applying a comprehensive framework that supports the educational experience with the necessary employability skills, which was launched in 2016. This framework deals with the enhancement of those soft skills through curricular and cocurricular activities and on multiple levels; societal, organizational, local, regional, and international. Bahrain Polytechnic provides unique student-centered, problem-based and project-based learning models, where it provides its students with a real-work experiences through their coursework, graduation projects, and work placements. The institution also involves its industry partners on multiple levels throughout the curricular development and evaluation phases to ensure programmes and graduates are responding to market needs and are up to date with the local and global trends.
Posted on 9 June, 2021 in News