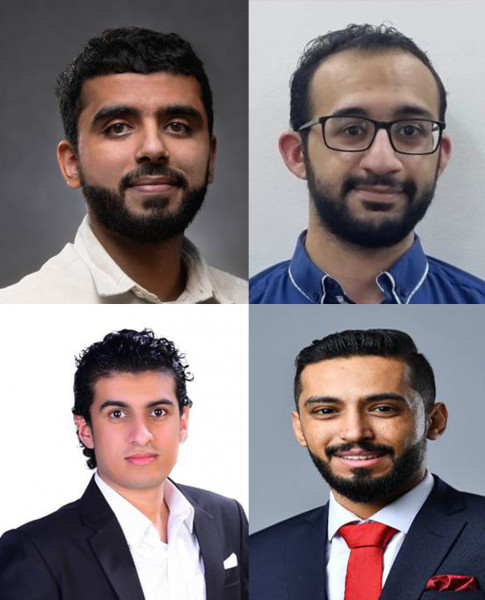 A team of four Bahrain Polytechnic graduates and students managed to create an online platform called Nectars that transforms your local restaurant or shop into a website in a matter of minutes. This project aims to simplify the process for a restaurant or shop to have a website with integrated delivery services.
Project Manager Ali Almansoor said: "After the launch, we immediately attracted customers because of our simple procedure. According to our market research most website services take a minimum of two weeks to setup. We actually made a client go live in one day". He noted that any customer can obtain a free website without fees or percentages on any order, which is officially linked with the delivery service and the ability to follow up on orders and their status, with the possibility of receiving amounts in cash or card through the website, receive continuous technical support with ease through the application, and obtaining the site in just one minute.
On how they work as a team, Ali said: "The team consists of four students under my leadership, and we are all graduates and students of the Polytechnic – majoring in Information and Communication Technology in programming and networking, so it was very easy to communicate and work together, as if we were doing a project at the Polytechnic as we used to."
And about the extent to which he benefited from his studies at the Polytechnic in establishing this project, Ali indicated: "Self-learning, as most of our studies at the Polytechnic were based on the project-based learning approach that includes working on many projects, and the problem-based learning approach that earned us many skills required to succeed in a career, all of which made us ready to work in a real work environment and start our own business and succeed in it."
For his part, Mr. Ahmed Alloush, owner of Al Baron Restaurant (one of the restaurants benefiting from the platform), expressed his great appreciation for the idea of the website, and the ease of the ordering and marketing process through it. He praised the students who carried out this work in terms of professionalism, quality, cooperation and speed of implementation and responding to any inquiries. He added that it indicates the quality of education and skills that the young people of their age who are still in university or recent graduates are equipped with. He concluded by encouraging them to become entrepreneurs who are proactive and proficient in all aspects and factors of success and self-employment.
On this occasion, Dr. Philippe Pringuet, an ICT tutor at the Polytechnic, said: "I am delighted to see Polytechnic ICT graduates becoming entrepreneurs. In the mobile programming course they have developed technical skills and work readiness skills that are very transferable to starting their own business. Nectars is an innovative technical solution to a real customer problem, and it focuses on customer experience not just a the technical aspect".
It is worth noting that the work team at Nectars includes two graduates and two students from Bahrain Polytechnic: Ali AlMansoor (Polytechnic graduate – Information and Communication Technology – Major: Programming), Ali AlHubail (student at the Polytechnic – Information and Communication Technology – Major: Programming), Ali Almoallim (student at the Polytechnic – Information and Communication Technology – Major: Programming), and Hussain Alsaeed (Polytechnic Graduate – Information and Communication Technology – Major: Networking).
Posted on 9 June, 2021 in News