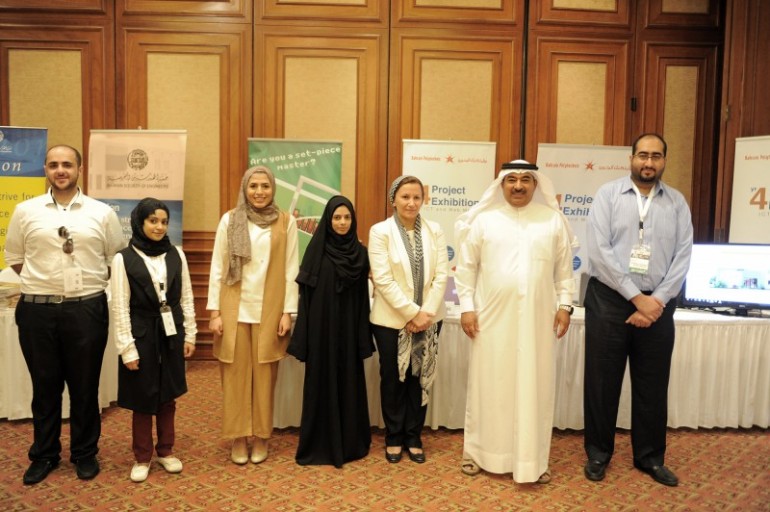 ICT Tutors Mr. Cyril Anthoni and Mr. Abdulmonem Ali accompanied senior BICT students to the Arab ICT forum that took place at the Gulf Hotel Convention Center on the 25th of October 2016. The forum was an excellent opportunity to network with primary ICT stakeholders in Bahrain. Students attended several sessions on the latest updates in ICT as reported by industry and academics.
Topics included:
 Airport management systems,
The most recent IGA services pushed to consumers including GIS and emergency response systems,
digital health services,
Mobile, operators, 5G network connectivity,
Social networking, Cloud Computing in academia, and most importantly legal,
Social, ethical issues of ICT and implications on the Bahraini society and the laws governing telecommunication and the digital crime in Region.
The Arab Engineering Society led by Mr. Saleh Tarradah welcomed the BICT delegates and facilitated the presentation of their projects to participants. Dr. Mohammed Al Amer, Chairman of TRA Board and Bahrain Polytechnic Board of Trustees member, visited the BICT booth stand and complimented the staff and students on their exemplary projects and the importance of their role in developing technology to Bahrain and the Region. Projects that were presented included:
 Set Peace Footy Game by Mr. Abdulmonem Ali , BICT Tutor
Bahrain Bus Ticketing System, Wejdan Yusuf, MIS Student
Bahrain Polytechnic Hall Booking, Anwaar Abdulla, Programming Student
Al Areen Wild Life, Abeer AlRumaidh, Programming Student
Virtual Workplace, Abdulla Mutlaq, Programming Student
CCNP Route For A Global Health Network, Amal Almahroos, Networking Student
During the forum Mrs. Raghda Zahran, MIS Programme Manager presented research findings on the Shift to Cloud Computing in Higher Education. The discussion highlighted Bahrain Polytechnic's Model in utilizing private and public cloud in solving technology problems and opening new innovation opportunities. Mrs. Raghda emphasized the need to equip the students with skills and prepare them to manage imminent technologies.
Posted on 29 November, 2016 in News