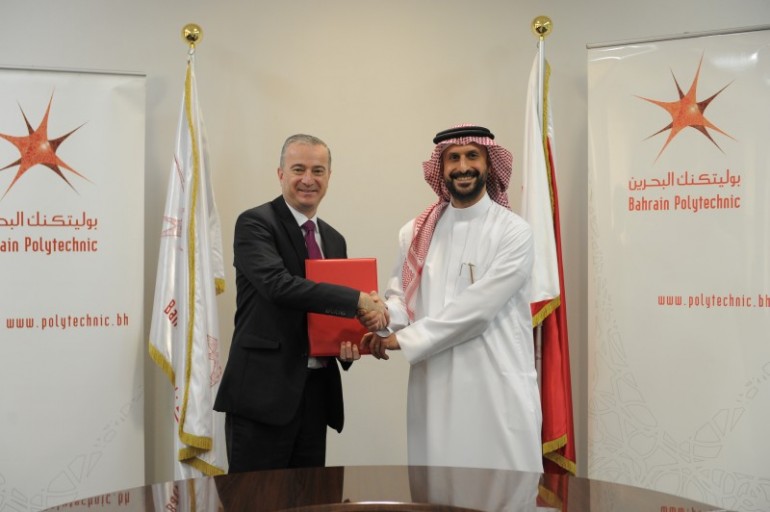 On May 9th 2017, Bahrain Polytechnic and Hack Arabia signed a memorandum of understanding, giving Polytechnic students the opportunity to enhance their practical skills in the field of ICT and application development.
Hack Arabia will offer internships, training and summer jobs to Polytechnic students, including offering them various courses in app development for iPhone Operating Systems.
Dr. Jeff Zabudsky, CEO of Bahrain Polytechnic, believes that the ICT field is a booming industry, and collaborating with Hack Arabia will help students become familiar with the latest technological trends.
"Mobile devices have become a part of everyone's daily lives." said Dr. Zabudsky. "It's important for businesses to start developing their own applications in order to easily connect with their customers or clients.
"This particular skill of application development is what our ICT students should be equipped with as they head into the labor market, and we are glad that Hack Arabia will assist us in that regard.
"I would like to thank Hack Arabia for this collaboration, especially to the Managing Director Mr. Hamed Fakhro on his leadership role to create opportunities for young people, as we strive to meet the government action plan 2015-2018 and Bahrain's 2030 Vision." concluded the Polytechnic CEO.
Mr. Hamed Fakhro, Managing Director of Hack Arabia, stated: "It's my dream and goal to have a completely self-sufficient technological environment where we can fill positions and create Bahraini IT, programming, and gaming companies in the near future. The first step is to empower the next generation with the necessary language and skills and I hope to see Bahrain as the hub of the Arab world in technology export as well. I want us to be the Silicon Valley of the Arab World. If you think of it, it's not really that hard to accomplish. Bahrainis have always been smart and ahead of their time. They just need a nudge in the right direction".
Dr. Jeff Zabudsky, CEO, signed on behalf of Bahrain Polytechnic and Mr. Hamed Fakhro, Managing Director, signed on behalf of Hack Arabia in the presence of representatives from both parties.
Posted on 9 May, 2017 in News