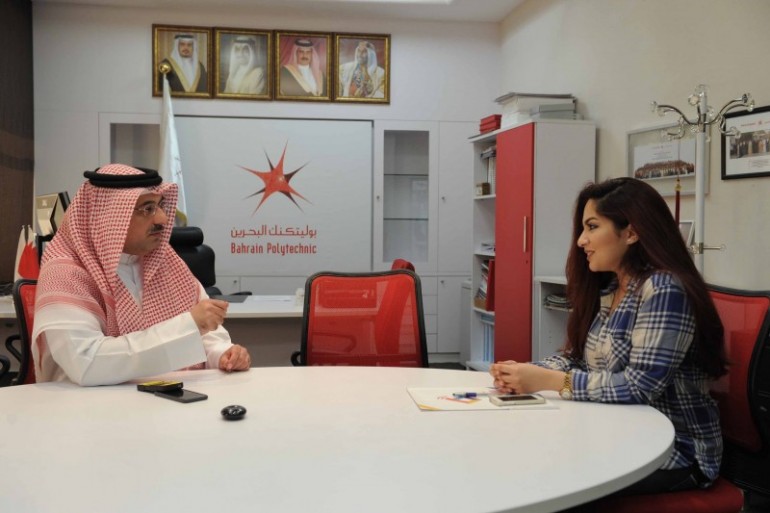 Fatima Al Hammadi, Vice president of Bahrain Polytechnic Student Council (BPSC), said that the student council has conducted many events ever since they were elected in April 2015, and she expects more events in the coming weeks, as the council members and volunteers have put great efforts in preparing ideas.
The upcoming semester plans were reviewed by Dr. Mohamed Al Aseeri, the Polytechnic's Acting CEO, where the Fatima delivered a detailed presentation on the number of events that are to be implemented during the second semester of 2015-16. They discussed about potential sponsorship offers the student council is seeking to obtain from a number of institutions in Bahrain.
Additionally, they discussed the contribution of each committee within BPSC and their plans for the second semester, where Dr. Al Aseeri stressed the importance of the council's role in becoming one of the sources of communications between the Bahrain Polytechnic management and students.
The vice president of BPSC confirmed that the student council did not stop working during the mid-semester break, and that it conducted several meetings with the council members and volunteers in order to discuss various ideas, outline action plans and divide the work.
Fatima Al Hammadi thanked the executive management, represented by Dr. Al Aseeri, at the end of the meeting for their cooperation and support to keep a continuous flow of communication. She also thanked the management for implementing BPSC's ideas and recommendations and converting many of them into reality, and providing constant support to ensure the success of the council's activities.
Posted on 14 February, 2016 in News