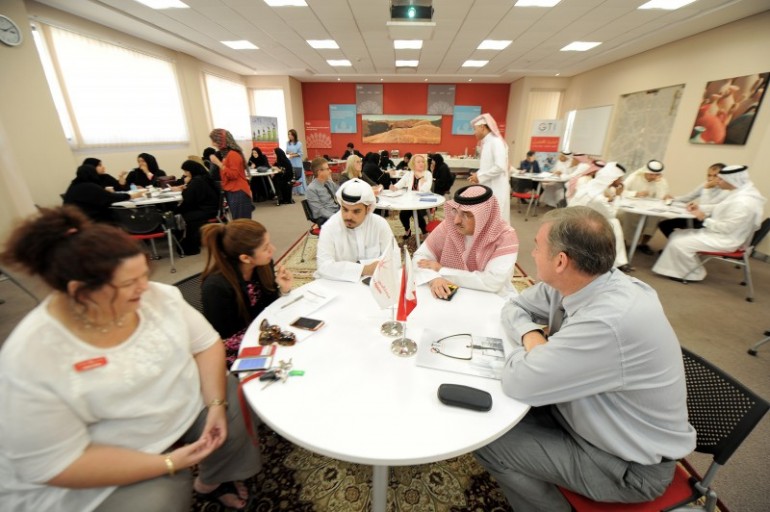 Bahrain Polytechnic's Career & Employment Centre invited various school counselors from around the Kingdom to reiterate the Polytechnic's teaching method of problem-based learning (PBL); focusing on applied professional education and practical learning.
The Polytechnic is renowned for preparing its graduates to engage in the labor market, equipped with a high level of communication skills, team working skills, and problem-solving skills, making the graduates unique compared to other higher educational institutions in Bahrain.
The Career & Employment Centre is dedicated to guide students and graduates to match their majors with their interests. The centre conducts weekly workshops and educational lectures for the students of the Polytechnic, such as training students to be capable of handling personal interviews, preparing their resumes, and help students get jobs through recruitment campaigns and relevant services.
On this occasion, the supervising team of the centre said that the main purpose of organizing this event on a regular basis is to create a focal point between Guidance & Counseling offices in Bahrain's schools and the Polytechnic's Career & Employment Centre. This will eventually give high school students a clear idea of the Polytechnic's teaching methods, as well as informing them of the higher educational options within the Kingdom; simplifying the decision making process for the students according to their interest and based on the labor market needs.
Acting CEO of Bahrain Polytechnic, Dr. Mohamed Al Aseeri, stated that creating a relationship with stakeholders, and the community, is among the goals of the Polytechnic, and that this event was only a part of Bahrain Polytechnic's efforts to achieve its goal. He also stressed the important role played by the Guidance Counselors in these schools to match their interests with their majors, and how it meets the requirements of the labor market. Ultimately, this will avoid problems related to students not being able to have a clear goal after high school.
Dr. Al Aseeri concluded by thanking all those involved in making this event a success.
Posted on 24 November, 2015 in News