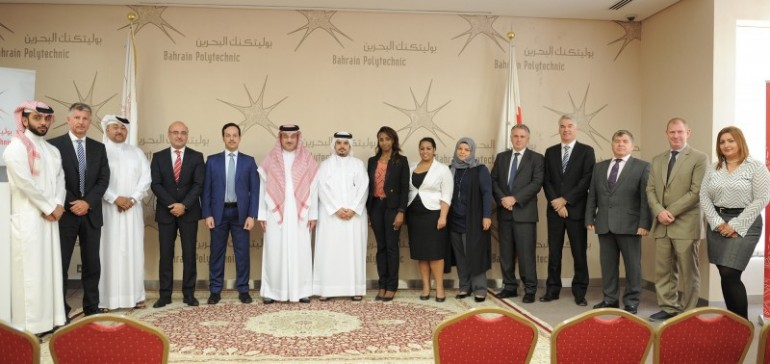 Bahrain Polytechnic hosted a symposium on Alternative Dispute Resolution (ADR) attended by various ministry representatives and professionals from the Kingdom of Bahrain and the region. The focus of the event was on disputes in the construction sector and the current status of mediation and arbitration locally, regionally and internationally. The speakers highlighted the complex nature of construction contracts and the implications of the legal process.
The event hosted four prominent speakers with immense experience in the field of dispute resolution. Dr. John Fletcher; ADR Products Group Director of the Royal Institution of Chartered Surveyors (RICS) provided  an  overview of ADR mechanisms and emerging trends such as Conflict Avoidance Panels and ACRE Mediation. 1st Lt Marzooq Salem from the Ministry of Interior, Saad Al Doseri; Senior Partner at AlTamimi & Company and Aysha Mutaywea; Resident Partner at Mena Chambers provided a detailed discussion on the legal framework for arbitration in Bahrain providing working examples from arbitration institutions such as the GCC Commercial Arbitration Centre and the Bahrain Chamber for Dispute Resolution.
RICS is the world's leading professional body for qualifications and standards in land, property, infrastructure and construction. They are a professional body that accredits professionals within the land, property and construction sectors worldwide. They regulate and promote the profession; maintain the highest educational and professional standards; protect clients and consumers via a strict code of ethics; and provide impartial advice and guidance.
Dr. Mohamed Al Aseeri, Acting CEO of Bahrain Polytechnic, praised the quality of the symposium in terms of knowledge and organization. The Acting CEO thanked the guest speakers for their delivering their presentations at the Polytechnic. He also thanked the Business School for organizing the symposium.
Bahrain Polytechnic is currently developing a major in real estate investment and finance and will also be working closely with RICS on this programme.  Bahrain Polytechnic also offers comprehensive dispute resolution courses to undergraduate students and will be delivering graduate and professional dispute resolution programmes in the near future.
Posted on 6 June, 2016 in News