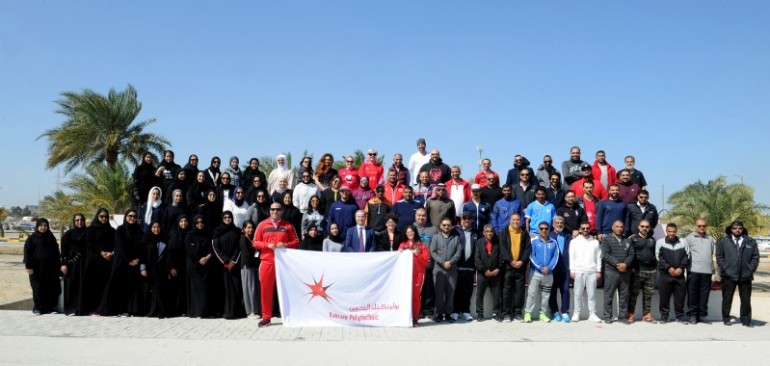 Bahrain Polytechnic celebrated Bahrain's National Sports Day through organizing several sports activities for the staff at its campus in Isa Town.
Bahrain National Sports Day, organized by the Bahrain Olympic Committee, was created to promote sports and health-enhancing physical activities in the Kingdom of Bahrain. All ministries and government departments have allocated half of the day for sports activities in compliance with the announcement of His Royal Highness the Prime Minister Prince Khalifa bin Salman Al Khalifa cabinet meeting.
On this occasion, Bahrain Polytechnic CEO Dr. Jeff Zabudsky said: "We are honored to be a part of this initiative, which contributes to raising the awareness about the important role of sports and exercise not only to individuals, but the society as well".
He added: "Health and exercise is very much encouraged at Bahrain Polytechnic. We have a very impressive Health & Wellness Center which features ladies and men gyms, a multipurpose hall for indoor sports such as basketball, tennis and badminton, and an outdoor football pitch. In addition, Bahrain Polytechnic organizes sports days each semester for Polytechnic students and staff to interact and learn about new activities.
"Polytechnic is keen to participate in various sporting events held at the Kingdom of Bahrain, including Shaikh Nasser Bin Hamad Universities League. We are also keen to host all the health campaigns organized by the health authorities in the Kingdom, especially the Ministry of Health, where we organized the "Protect Your Heart" campaign in which a large number of employees participated.
The half-day event started off with a "group walk" which was actively participated by the Polytechnic's management and staff. This was followed by various sports competitions, namely: Tug of war, relay race, football, volleyball, billiard and table tennis, which enriched the values of friendship and unity among the members of Bahrain Polytechnic.
At the end of the event, Dr. Zabudsky thanked all the participants who took part in the event and the organizers for their efforts to execute a success event.
Posted on 17 February, 2019 in News