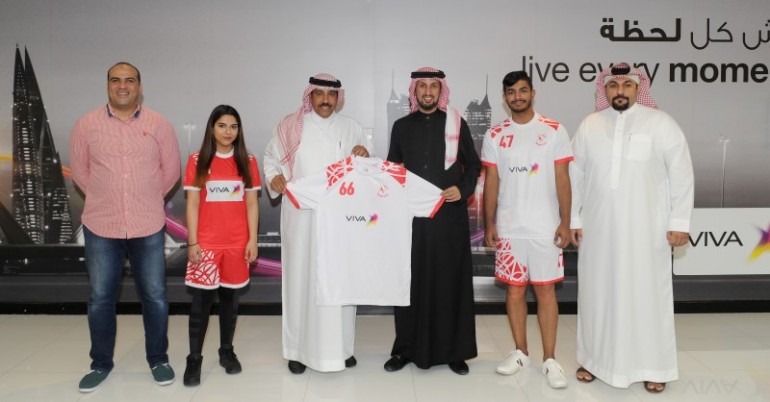 VIVA Bahrain, the Kingdom's leading telecommunications service provider is sponsoring Bahrain Polytechnic's sports teams in the Nasser bin Hamad Universities League; one of the initiatives of His Highness Sh. Nasser bin Hamad Al Khalifa, His Majesty the King's Representative for Charity and Youth Affairs, President of Supreme Council for Sports and Youth and President of Bahrain Olympic Committee. This backing comes through its Corporate Social Responsibility arm "VIVA Jusoor" and underpins its strong commitment towards the local sports community and Bahrain's development at large.
Dr. Jeff Zabudsky, CEO of Bahrain Polytechnic, expressed his appreciation to VIVA Bahrain for its contribution and support to the Polytechnic students in the sports field. He stressed the importance of Polytechnic's participation in these initiatives to embrace the national talent of youth and channel their energy to achieve competitiveness in different fields.
In turn, VIVA Bahrain Chief of Government Affairs, Sh. Ziyad bin Faisal Al Khalifa underscored VIVA's commitment to support Bahrain Polytechnic, praising it's achievements and the efforts in supporting Bahraini youth and empowering them through various fields. He pointed out that supporting the community has long been a key pillar of VIVA's business, and VIVA will continue making strides in that direction through such sponsorships to empower the local athletes and encourage people to uptake healthy and active lifestyles.
The sponsorship came through VIVA Jusoor, the Corporate Social Responsibility arm of VIVA Bahrain, where the company is committed to support national events including health and education with a focus on youth.
Posted on 23 January, 2019 in News