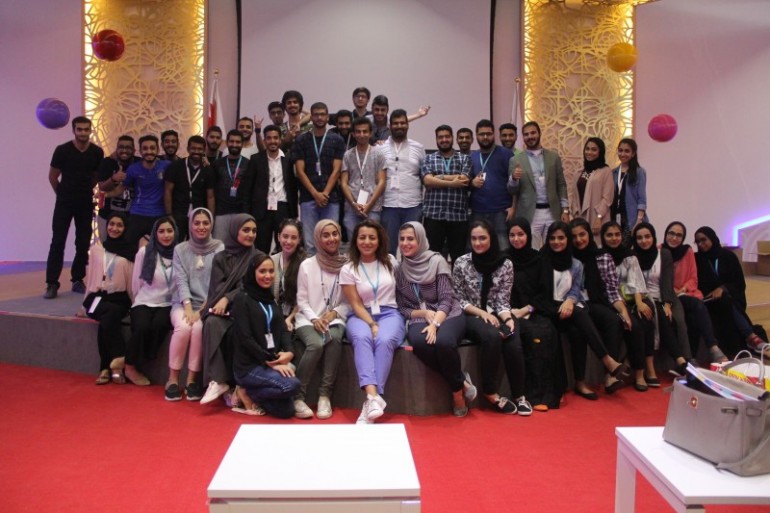 Held under the patronage of Dr. Mohamed Al Aseeri, Acting CEO of Bahrain Polytechnic, the Bahrain Polytechnic Student Council (BPSC) has organized one of the biggest events in Polytechnic's history, called "PolyHunt". The event, attended by more than 1000 students and staff, was held all around campus on 6th September, where several recognized talents and stars from Bahrain were part of the entertainment of the event.
The six hour event included several programs, such as the display of talents, an art gallery, food festival, market day, sport challenges, games, plays, the distribution of motivational phrases, and the main event: PolyHunt.
Hasan Al Tooq, President of BPSC, stated: "The treasure hunt represented a big challenge to the student council, since we decided to run a number of events at the same time, and we're delighted to have finished the work on time.
"During the summer vacation, the council and its volunteers began the preparations of the event from scratch in order to meet one of the objectives assigned to BPSC: adding cultural value to all events." said Mr. Al Tooq.
Mr. Al Tooq thanked all who attended the event, including patrons, management, participants, guests, students and staff and hoped that they were satisfied with the event. He expressed his thanks to all the members of the student council and its volunteers for their efforts and thanked Dr. Al Aseeri for his support.
Mr. Al Tooq also expressed his sincere thanks to the 16 sponsors who have contributed to provide various kinds of support. The gold sponsors were: MJ's Bowling Lounge and Passion Café.  The silver sponsors were: Coca-cola, Tarteeb, Diamond Thread, Bahrain International Circuit, Design Skills. The contributing sponsors were: Shishabi, Explosion Burger, Mashq Art Space, Moustache, Lava Burger, Powershine, Jewls, DIVA and Discipline Academy.
For his part, Dr. Al Aseeri said: "This event contributed significantly to the new students of the many services the Polytechnic offers, as well as building relations with each other and the staff. This event also helped showcase many promising talents in various fields.
"One of the objectives of the Polytechnic is to fine-tune the skills of the students, as part of our strategic plan 2015-2019, which are compatible with the government work plan 2015-2018 and Bahrain 2030 Vision." concluded the Acting CEO.
Dr. Al Aseeri offered his sincere thanks to BPSC, its volunteers, and all those who contributed to the success of the event, particularly the sponsors who supported the event.
Posted on 20 September, 2016 in News