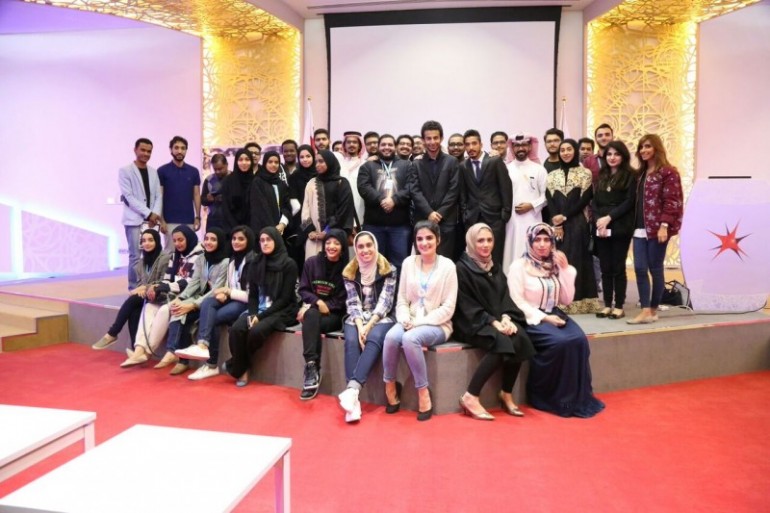 Under the patronage and in presence of the Acting CEO of Bahrain Polytechnic, Dr. Mohamed Al Aseeri, the Bahrain Polytechnic Student Council (BPSC) organized an art exhibition for individuals with special needs, titled "Share the Hope", which was held on the 12th of December 2015.
Many Bahraini Artisits have participated in this exhibition, in various mediums of arts, including painting, digital art, photography, and movie making.
The exhibition included a number of activities, such as a play, a short clip and a debate about disabilities, followed by another play on temporary disability.
In addition, a word from Mr. Ahmed Jafar, the President of "Thimar", a local volunteer and a player in the national disabled sports team, where he  spoke about his personal experience with disability.  His segment was followed by the Vice President of the Multiple Sclerosis (MS), Eng. Ali Tulefat, who spoke about his encounter with MS.
And on this occasion, the Head of the Cultural and Arts Committee of Bahrain Polytechnic Student Council, Hasan Al Touq, has praised the work of all the student council team whom have contributed to organizing the exhibition in a record time, he has also extended his thanks and appreciation to the executive management and student services Director, Dr. Nawal Zewayed for facilitating administrative tasks and supporting the team thoroughly. He has also extended his gratitutde to the event sponsors,: Ashraf (Gold Sponsor) (Ashraf), and Manaqeesh & Ajmal (Participating Sponsors) () whom have set the foundations for the exhibition, "Share the Hope".
Posted on 11 January, 2016 in News