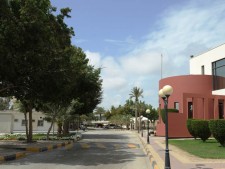 A group of US educators from many institutions, accompanied by members of the Bilateral US-Arab Chamber of Commerce (BUSACC), were toured by Bahrain Polytechnic around the Kingdom of Bahrain in attempt to be exposed to the educational system, including a visit to the campus.
The group enjoyed a three day stay within the Kingdom and had the opportunity to visit a few top industries, touristic sites and a tour around Bahrain Polytechnic.
"We've taken our guests to many places around Bahrain, including Bahrain Fort, Barbar Temple and the Bahrain Museum on the first day." said Ali Salman, Manager of Education Liaison of Bahrain Polytechnic.
The following day, the group was given a tour around the Polytechnic to see the facilities, students and staff members, prior to an introductory presentation and an interactive discussion session. During the introductory presentation, the guests were exposed to the education system at Bahrain Polytechnic, focusing on Problem Based Learning approach, Work Integrated Learning and Bahrain Polytechnic links with the industry. Additionally, both parties discussed issues related to students and teachers exchange in addition to curriculum inputs together.
"The educators which took the time to travel to the Kingdom Of Bahrain have learned a lot from this period. Both [educators and the Polytechnic staff] face similar challenges within the academic industry and the group was pleased to have a good discussion regarding the topic" stated Matthew Kocian, Project Coordinator of BUSACC.
"We would like to show appreciation to Bahrain Polytechnic for their time and hospitality within these three days."
Posted on 6 June, 2013 in News