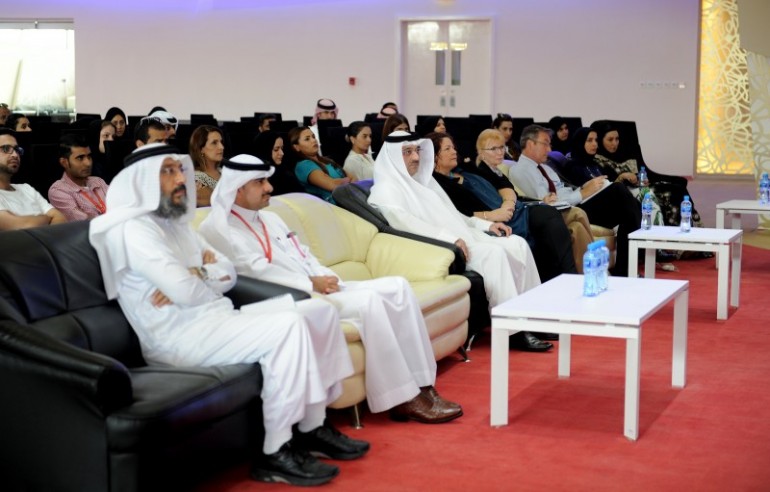 Bahrain Polytechnic hosted a seminar at the campus, where the Civil Service Bereau (CSB) representatives gave a lecture regarding the "Adaht" program and its functionality in government bodies on 6th October 2015 to the Polytechnic staff.
The seminar included two sessions, where one was regarding the employee's rights to incentives, whereas the second session was addressed to a managerial level on how to evaluate the staff's performance to meet the incentive requirements of CSB.
Representing the incentives department from CSB, Mr. Jamal Amin explained the staff's rights and criteria in order to apply for an incentive. Another representative from CSB, Ms. Fatima AlAmer, lectured the directors and managers, including the human resource department, about the CSB program called "Adaht" which goes to monitor staff performance in various governmental bodies. She added that the responsibility [of evaluating staff] lies with the managers, in which they recommend promotions and incentives.
Ms. Fatima AlAmer also explained that the "Ada" program comes within the government's plan to improve benefits for all staff that follow the CSB regulations and management, which will eventually contribute to upgrading the level of performance, productivity and quality in government sectors.
Acting CEO, Dr. Mohamed Al Aseeri, stressed that the executive management, under the guidance of Sh. Hisham bin Abdulaziz Al Khalifa, are eager to improve the performance of their employees and ensuring that the employee's rights are met, which includes incentives and rewards. He added that the CSB has spared no effort in educating their employees regarding the laws and regulations of their rights, as well as contribute to improving job performance.
In conclusion, Dr. Al Aseeri gave his sincere thanks to CSB for their cooperation in providing a valuable lecture, stressing that evaluating job performance would contribute in achieving the government action plan 2015-2018 and Bahrain's 2030 Vision.
Posted on 12 October, 2015 in News