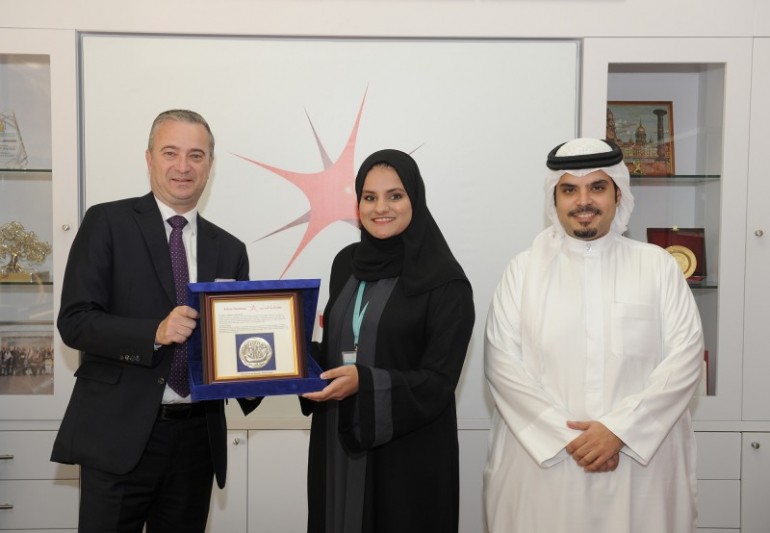 On behalf of the Chairman of the Board of Trustees, Sh. Hisham bin Abdulaziz Al Khalifa, Bahrain Polytechnic's executive management awarded 4th year ICT student Maleeha Muzafar Ismail at the campus on 25th October 2017 for accomplishing an international achievement by winning the "Best of Nation" award at the '44th WorldSkills Competition' that took place in Abu Dhabi, UAE.
Maleeha was one of 6 selected to represent Bahrain at the event which consisted of 51 different skills competitions with 1300 competitors from 59 countries. She participated in the "Web Design and Development" category where she collected the "Best of Nation" award and a certificate of excellence after earning 660 points for creating a game in a span of 5 hours.
Maleeha described the feeling as 'amazing' when she was selected to participate in the competition, stating: "I felt proud, because not only was I representing myself but Bahrain and its education system as well.
"Lots of training was required [in order to win the competition], since they make you work in a short span of time, such as developing and designing a game in 5 hours. So you need to pick elements that you can do within the time you were given and produce a product which works efficiently.
Maleeha concluded by motivating the youth of Bahrain to participate in this competition, as it allows you to witness and learn a variety of skills from different people in various countries.
Dr. Jeff Zabudsky, CEO of Bahrain Polytechnic, said: "I'm delighted to see that our own student was able to collect such a prestigious award at an international competition. We want to encourage our students to participate in such competitions during their time at the Polytechnic, as not only will it test their skills, but will help them learn and become better individuals.
"I would like to express my congratulations to Maleeha Ismail for her great efforts to win the 'Best of Nation' award, and wish her all the best." concluded Dr. Zabudsky.
Maleeha Ismail was awarded at the campus by the Polytechnic's executive management, Dr. Jeff Zabudsky, CEO, and Sh. Ali bin Abdulrahman Al Khalifa, Deputy CEO: Resources and Information Affairs.
Posted on 5 November, 2017 in News