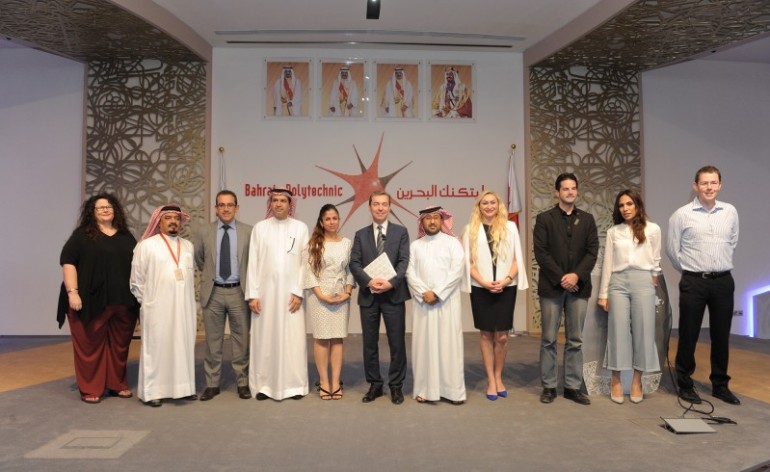 "Virtual Reality Is Not A Game Anymore!" was the subject of the workshop held in the Bahrain Hall  at Bahrain Polytechnic's campus on October 30th 2017, as part of the Manama Entrepreneurship Week 2017.
Manama Entrepreneurship Week is a platform that encourages young entrepreneurs to thrive by showcasing leading regional and international success stories and connecting them with a number of support and business acceleration mediums available in Bahrain.
The entertaining workshop at Bahrain Polytechnic included demonstrations of virtual reality solutions in action for education and business challenges.  Mr. Ruslan Zaedinov, Deputy Director General for International Development at CROC, delivered a presentation on how virtual and augmented reality are being used today in training and education.  He presented a statistic that shows a forecast for the global augmented and virtual reality market size for 2016, 2017, 2020 and 2021. In 2021, the augmented and virtual reality market is expected to reach a market size of USD 215 billion.
Dr. Jeff Zabudsky, CEO of Bahrain Polytechnic, commented: "The importance of virtual and augmented reality is growing in the field of education, and hosting such an event at our campus gives students a feel of how technology is currently being used in academia."
The guest speaker, Mr. Ruslan Zaedinov, is a Deputy Director General for International Development at CROC – a strategic partner of NGN International. He is one of CROC's key experts involved in business strategy development with regard to computing systems and related services.
It's worth mentioning that the Manama Entrepreneurship Week this year aims to promote sustainable development and social entrepreneurship and to foster an environment highly conductive to entrepreneurship and innovation, in order to achieve continual development, sustainability and economic prosperity.
Posted on 8 November, 2017 in News