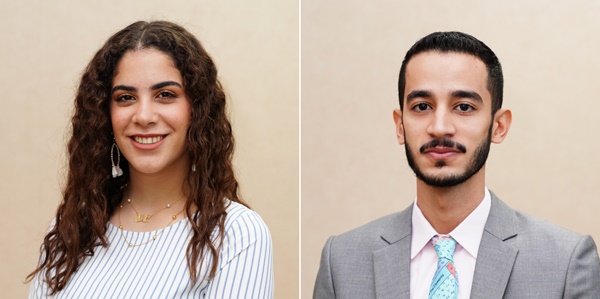 Bahrain Polytechnic's President of the Student Council, Ola Mashal, expressed her sincere appreciation for the initiatives taken by the Polytechnic to adopt the competency-based learning system to evaluate its students.
Bahrain Polytechnic is the first at the level of local educational institutions to adopt this system that would ensure fairness when evaluating students, knowing that this system was already implemented at the Polytechnic for years to assess its foundation students.
Considering the measures taken by the Polytechnic in the face of disrupted studies under the current circumstances, Ola emphasized that all these measures were in the interest of all students, and added: "These measures contributed to reducing all the pressures we faced during this period, and made us feel that we have the necessary capabilities to pass the semester and gain the skills we expect after completing our courses."
Regarding the shift to virtual classes, the Student Services Committee Chair of the Student Council, Yusuf Alawi, stated that the shift to virtual learning or even changing the grading system is not new to Bahrain Polytechnic students. They previously incorporated the virtual elements of teaching in many of the courses, which made it easy for students to adapt to this digital learning approach in the current situation.
He indicated: "The BigBlueButton is one of the best [educational platforms], as there are a number of features you can utilize to get the regular classroom experience. All students appreciate the fact that they can wake up and prepare for their class in just ten minutes, instead of leaving their homes at least one hour before to arrive to the campus on time. We thank Bahrain Polytechnic for its constant support to find the best option for their students."
On behalf of the students, Ola and Yusuf directed their appreciation to the executive management for their keen desire to provide its students with the same quality of education as if they are attending their classes on the campus. They also expressed their appreciation for the smooth transition to virtual classes and the response of the academics, student services, and all departments involved. This includes their response to the student's inquiries, which contributed to providing clarity among students. Additionally, they thanked them for giving the Student Council the opportunity to be an effective component of this unique educational experience by conveying the students' perspectives and problems that are often resolved in a timely manner.
Posted on 1 April, 2020 in News