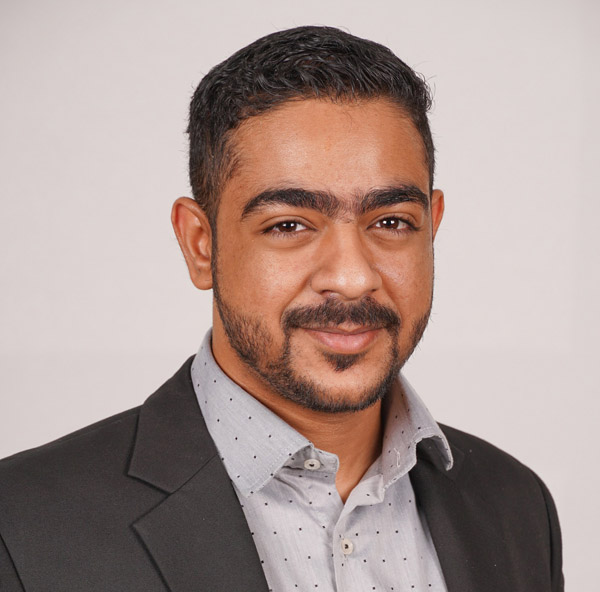 Bahrain Polytechnic has proven its excellence in virtual learning since its inception, as it was one of the first institutions of higher education that adopted virtual learning to present its teaching material to its students online. This comes as the institution's firm belief in the necessity of keeping pace with modern technology and out of the traditional style of education, to ensure students graduate with skills that meet the requirements of the local and global labour market.
In light of the current situation where educational institutions are turning to virtual learning to avoid disrupting their students' studies, Bahrain Polytechnic was proactive in adopting a virtual learning platform that tutors and students can use easily, smoothly and with positive feedback, where both staff and students showed extraordinary professionalism in the face of this challenge.
Ali Ismail, one of the Polytechnic's graduates (of 2019), is currently an Academic Systems Coordinator at the Royal College of Surgeons in Ireland (RCSI Bahrain). His role is based mainly on supporting the virtual learning environment (Moodle) at RCSI, which is a testament of the Polytechnic's method of education and the skills of its students.
In this difficult period, Ali Ismail worked to establish and provide support for e-learning at RCSI, explaining: "Upon receiving the request to implement Blackboard Collaborate (Virtual Campus) and while the management team were obtaining the required licenses, I have started the implementation of Blackboard Collaborate Plugin on the testing environment.
"The main challenge was choosing the right method to integrate Blackboard Collaborate with Moodle. There are two options of integration with Moodle and after trying out the first option, it turned out that it did not fulfill all requirements. Thus, I had to explore the second option, which was successful. The final step was to apply the update to the production environment and make it available to all RCSI academics and students."
About how the Polytechnic's studies benefited him throughout his field of work, Ali stated: "As a Bahrain Polytechnic graduate, the knowledge and skills learnt and gained during my studies have been helpful to me in most tasks. During the implementation, I was following my mentor's method of implementing and testing which I learnt during my In-House project in Bahrain Polytechnic. This method allows you to find bugs and mistakes faster and easier."
He added: "During these unusual times, skills and knowledge are gained. A few weeks ago, I have not heard of the term "Virtual Campus", and now I am experienced in this area."
For his part, RCSI's Records and Regulations Manager, Omar Bureshaid said: "Over the course of the last 10 months, Ali has demonstrated a great dependability, flexibility, professionalism, and ability to assimilate and become an integral part of the team. His eagerness to learn and go above and beyond his job description is exemplified through his work in supporting the implementation of our virtual teaching strategy. Ali was able to demonstrate his ability to work with multiple stakeholders to ascertain their requirements and translate it to functional features on our Virtual Learning Environment. During the implementation of this project, Ali demonstrated a great level of technical and relational expertise."
This was confirmed by RCSI's Head of Language and Culture Unit, Dr Amal Al-Qallaf, who said: "I have worked with Ali on very complex tasks related to online English examinations with specific international requirements and found him to be a colleague of high caliber, both personally and professionally. He has always been able to support beyond expectations. He has an enthusiastic, energetic and professional character whereby he adds great value to any project you assign to him."
In turn, Dr. Christakis Papageorgiou, Dean of the EDICT Faculty of Bahrain Polytechnic, said: "We are very proud to see the result of our efforts at the Polytechnic, that has yielded the best students who returned the favour to their tutors through their excellence in their respective occupations in various fields. We extend our sincere appreciation to those students who raised the name of the Polytechnic by granting it a good reputation and high standing among local, regional and international higher education institutions. We also thank our academic staff's efforts and professionalism to help our students receive quality education and skills. Finally, I would like to thank the executive management and board of trustees, Chaired by His Excellency Shaikh Hisham bin Abdulaziz Al Khalifa, whose directives were essential to where the Polytechnic is today."
Posted on 28 April, 2020 in News