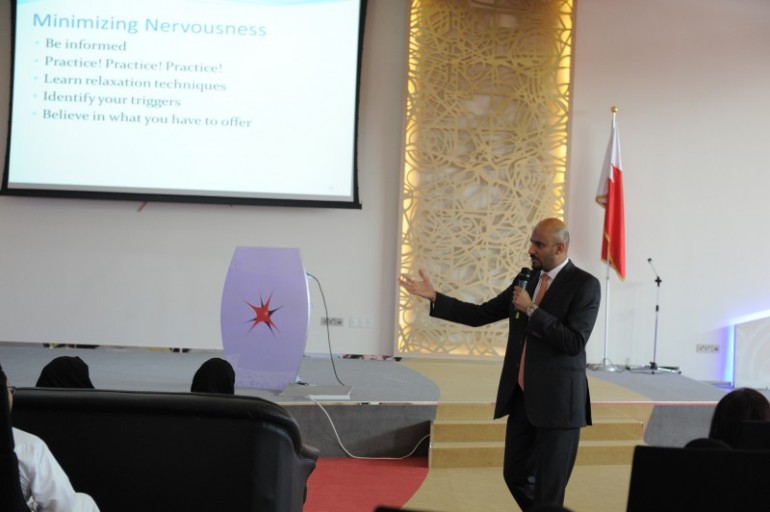 Bahrain Polytechnic's Business School organized a lecture at the campus on "Networking" delivered by Bahraini coach Mohammed Abdullah Isa, aiming to raise awareness among the Polytechnic students and their members about the important of self-marketing and effective communication with others, whether at a professional or social level.

Mr. Mohammed spoke about the foundations of communication and how to deal with people effectively, giving various real-life examples he has experienced during his work and personal life.
He also noted the importance of self-confidence, efficiency, and credibility, as these requirements during networking will affect a person's first impression, and that tension would reflect negatively when networking. He advised the audience to assess the situation well and seize the opportunities as they come, as networking usually presents good results for both parties.
He added that interaction is not limited to personal and the initial circle of relationships, but further beyond, and gave several examples on the importance of developing a positive image in front of anyone they [students] have met. He encouraged the students to take full advantage of networking opportunities found in volunteer work, official work, or participating in events.
To conclude, Dr. Mohamed Al Aseeri, Acting CEO of Bahrain Polytechnic, thanked Mr. Mohammed for accepting the invitation to deliver a presentation to the students and employees of the Polytechnic, as it held valuable information on communication and networking which will benefit them throughout their life or career journeys.
Mohammed Abdullah Isa holds the position of Chief financial officer of INOVEST, and a Certified Public Accountant from an American State Board of Accountancy. He holds a bachelors degree in Accounting and a Master of Business Administration. He is also a part of the Polytechnic's curriculum advisory committee of Business.
Posted on 5 October, 2015 in News