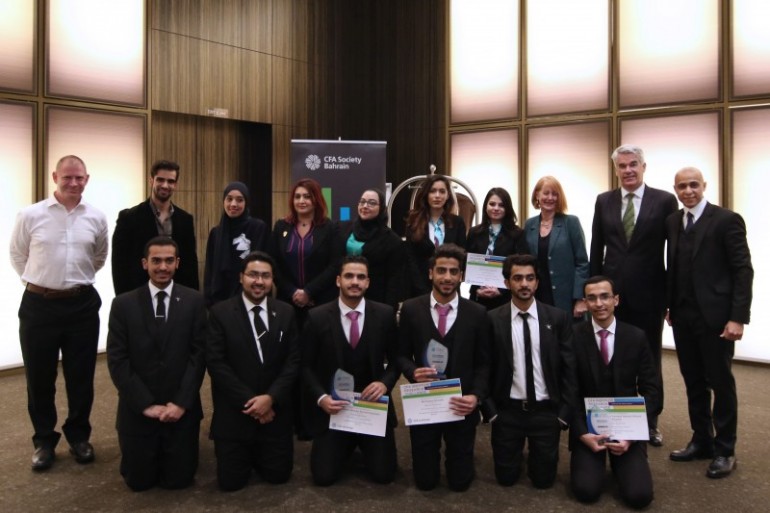 Two teams of Bahrain Polytechnic students have qualified for the Research Challenge 2016 finals after winning first and second place, where the final will take place at Chicago, USA in April 2016.
Organized by the CFA Institute, teams from various public and private universities conducted a research on a selected company, and presented their written report to a panel of judges, where the Polytechnic reaped the rewards in the end.
Banking & Finance student Ali Hamaidan, a team leader of one of the Polytechnic groups, expressed his delight when he first heard that he'll be participating at an international competition: "I felt extremely happy knowing that I will be representing Kingdom of Bahrain and Bahrain Polytechnic in Chicago.
"As a team leader, I had to know the strength and weakness of my team members, what qualities and skills they have in order to delegate and assign the perfect tasks for them. Moreover the difficult part was to schedule a meeting suitable for all members, taking in consideration their busy schedule and assignments without pressuring any of them."
Final year student Salman Barakat commented: "It's a very proud moment when you realize that all the hard work that you have put up has finally paid off. The group was a very optimistic. We always aimed for the win and were confident that we will be able to win the competition."
When asked about how the Polytechnic has helped them reach this far, Nada Ebrahim Al Derazi, another banking & finance student, commented: "Bahrain Polytechnic has shaped the person who I am today, through giving me the knowledge and skills that were needed during this journey."
Donya Alansari, another student, said: "Our backbone of knowledge is gained from Bahrain Polytechnic, in addition to our educational support, our faculty advisors also supported us mentally throughout the competition."
Emma Salari, the tutor who helped and guided the students during the competition, said: "Throughout this competition I was proud of the students' dedication.  This was done outside of class work and on weekends.  The students were under stress at various times, however, all persevered and performed phenomenally.
"[For the selection process], the top students were chosen as nominated by staff.  Their records were checked for being at good standing as per their transcripts.
"The two teams were outstanding, each person had their strengths and what made them win was their ambition and team dynamics. This was the toughest competition by far." she concluded.
Acting CEO, Dr. Mohamed Al Aseeri, said that this is a great achievement for the winners, showing the high quality of Polytechnic students. He added that the academic and administrative staff of the Polytechnic has put in great efforts to produce work-ready graduates with the 21st century skills, as part of its Strategic Plan 2015-2019, the government work plan 2015-2018 and Bahrain 2030 Vision.
He concluded by congratulating the students, and thanked them for representing the Polytechnic. He also thanked their tutors and mentors for their contribution in accomplishing this great achievement.
The winning teams now have to work on upgrading their presentations for the international competition.
The winners were:
Ali Hamaidan (team leader)
Hajar Ahmed Mohamed Sultan (team leader)
Donya Alansari
Husain Khamis
Mohamed Ghayeb
Nada Ebrahim Alderazi
Ali Faeq Ahmed Ali
Saleha Mohamed Al-Doseri
Abdulrahman AlThawadi
Salman Barakat
Posted on 16 March, 2016 in News