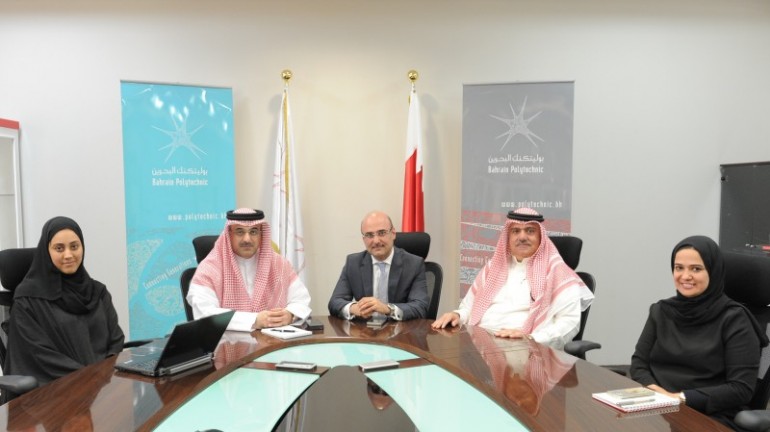 Bahrain Polytechnic's Equal Opportunities Committee conducted a meeting on 8th February, 2016. As per the Bahrain Women's Day theme of 2016, highlighting the legal and judicial fields, the Polytechnic is delighted to announce that its legal division is an all-female department.
Additionally, the female staff ranks from researcher to the highest of its ranks, and the staff are highly spoken of among stakeholders they collaborate with, and excelling in their performance.
During the meeting, the committee reviewed the performance statistics for the year 2015, which included recruitment, remuneration, and promotions ratio between female and male employees of Bahrain Polytechnic, confirming that women have excelled men in these fields.
In the same context, the committee reviewed the results of the cooperation between the Polytechnic and the Supreme Council for Women (SCW), which is their mission to raise awareness of the importance of the role of women and protect their rights, which in turn influenced the culture of the Polytechnic staff, and reinforced its concepts of equal opportunities for all its employees.
The collaboration resulted in a number of workshops and training session over the past year, and the committee praised their efforts, calling for a more enhanced cooperation in order to increase the number of workshops and lectures in the future. The committee also discussed a number of proposals to ensure optimum equal opportunities for its employees.
Acting CEO of Bahrain Polytechnic, Dr. Mohamed Al Aseeri, commented that the Board of Trustees, chaired by Sh. Hisham bin Abdulaziz Al Khalifa, are keen on following up with the work of the committee and facilitating the necessary means to ensure equal opportunities between women and men in the Polytechnic. This support is ensure the Polytechnic helps achieve the goals of SCW led by Her Royal Highness, Princess Sabeeka bint Ibrahim Al-Khalifa, Wife of His Majesty the King, of advancing the level of sophistication of Bahraini women in various fields.
Dr. Al Aseeri thanked all those who were contributed to the success of the committee's work, which will in turn give prosperity to Bahrain.
Posted on 10 February, 2016 in News