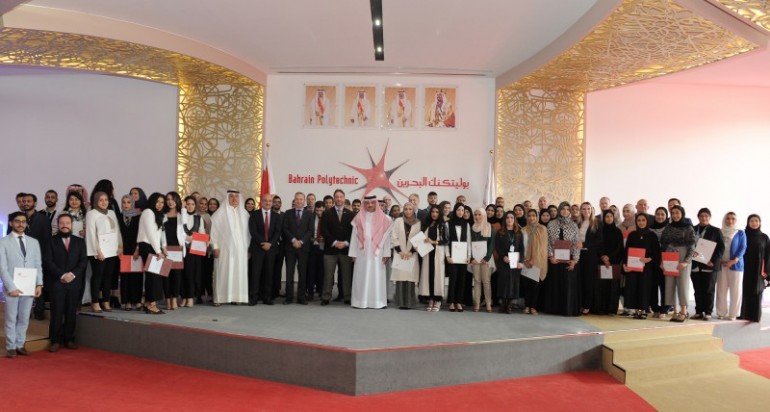 Bahrain Polytechnic hosted the fifth Chartered Institute of Logistics and Transport (CILT) International awarding ceremony to students majoring in the Bachelors of International Logistics Management who completed their diploma and international certificate from CILT. The awarding ceremony took place at the Bahrain Hall on 5th January 2017 under the patronage of H.E. Sh. Hisham bin Abdulaziz Al Khalifa, Chairman of the Board of Trustees.
The ceremony was attended by a number of members of the executive and senior management team, guests, and representatives from the industry sector.
H.E. Sh. Hisham bin Abdulaziz Al Khalifa congratulated the graduates on this academic achievement which will contribute to providing more skilled Bahrainis in the labor market. He also thanked the logistics tutors for their role in contributing to developing education in the Kingdom, especially since Bahrain Polytechnic is characterized as the only institution in the region to launch a logistics programme with international standards while meeting the needs of the labor market.
The Polytechnic is proud to be a contributor to moving the Kingdom forward by providing Bahraini graduates, such as the ones awarded by CILT, one of the largest logistics institutes in the world. This puts the Polytechnic on track to meet the Bahrain 2030 Vision and government work program 2015-2018.
It is worth mentioning that since 2012, the Polytechnic graduated 500 logistics students with the diploma and international certificate from CILT.
To conclude, H.E. Sh. Hisham bin Abdulaziz Al Khalifa delegated Bahrain Polytechnic Acting Chief Executive Officer Dr. Mohamed Al Aseeri to  hand the  students the diploma in logistics and transport and CILT international certificates.
Posted on 5 January, 2017 in News