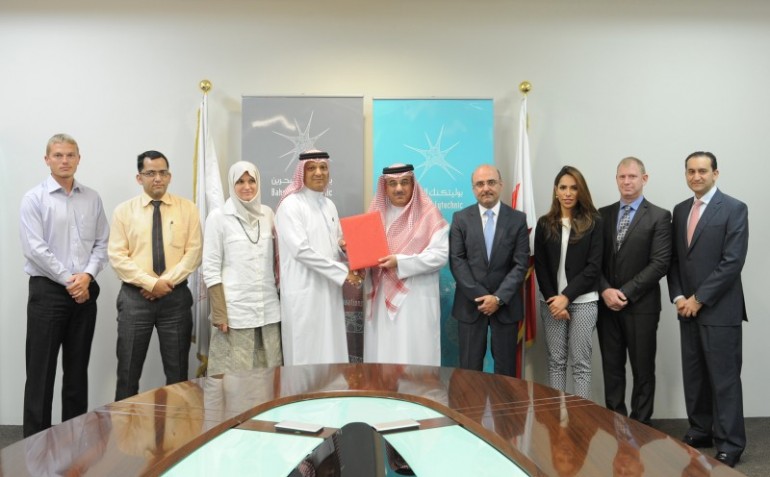 A Memorandum of Understanding has been signed between the Amthal Group and Bahrain Polytechnic for joint co-operation.
According to the MOU, both organizations will co-operate in a number of areas covering internships for students, sharing knowledge, experience and ideas, arranging visits and guest speakers, as well as collaboration on research projects.
The MoU was signed by Dr. Mohamed Ebrahim Al Aseeri, Acting CEO of Bahrain Polytechnic, and Mr. Hani Awachi, CEO of Amthal Group. The Ceremony was also attended on behalf of Bahrain Polytechnic by the Deputy Chief Executive Educational Services, Dr. Hasan Almulla, the Dean of Business Faculty, Mr. Cormac MacMahon, the Dean of EDICT Faculty, Dr. Phillippe Pringuet, the Acting Manager Industry & Liaison, Mr. Talat M. Abdulla, and Programme Manager, Ms. Latifa Al Fadhel, and on behalf of Al-Amthal by Mrs. Beate Schoek-Awachi, GM-HR & Admin, and Mr. Ashraf Bilal, Head of Sales & Marketing.
Al Amthal has already taken on different groups of students for their work placement in the HR & Implementation departments as well as in the ECnet division, where they are getting first-hand experience for their various projects, under the guidance and supervision of Al-Amthal professionals.
"We are always keen to fulfill our social responsibility by providing quality training opportunities to Bahrain's future work force through intensive and real-life work experience. We are really proud to have been chosen as partners for this favorable tie-up with Bahrain Polytechnic for the benefit of the Kingdom's young professional generation", said Mr. Hani Awachi, CEO of the Amthal Group, on the occasion of the signing ceremony.
On behalf of Bahrain Polytechnic, Dr. Mohamed Al Aseeri stated: "We educate our students by using the problem-based learning approach, which encourages practical work and ensures that they touch the corporate world at an early stage of their academic career. Signing this agreement with Amthal Group falls under our goals of producing work-ready graduates, as part of the Kingdom's 2030 Vision and government action plan 2015-2018."
Posted on 27 March, 2016 in News