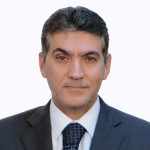 Bahrain Polytechnic's Chief Executive Officer, Dr. Jeff Zabudsky, was pleased to welcome Dr. Haitham Al Qahtani as the Polytechnic's Dean of Applied Research & Enterprise.
Dr. Al Qahtani's role will be to set up the Deanship of Applied Research from concept to business plan based on market needs of applied research, align students' projects with entrepreneurship programs, developing faculty research expertise into consultancy skills which caters to the public and private sector needs, and building internal research resources and infrastructure.
Dr. Al Qahtani brings a wealth of academic and professional experience, having previously worked as a project leader when setting up the British College of Bahrain, Group Strategic Planning & Project Developer at the Yusuf Bin Ahmed Kanoo Group of Companies, and Vice President for knowledge based services at the Economic Development Board.
He holds a PhD in Chemical Engineering from the University of Tufts in Boston, a Masters of Energy Engineering from the University of Leeds in the UK, and a Bachelors of Petroleum Engineering from the University Southern California in USA.
On this occasion, Dr. Al Qahtani stated: "Research is an important factor in any academic institution, as it can contribute to creating new knowledge and opportunities which can result in economic development. Bahrain Polytechnic is rich with its experienced international faculty members who hail from different sectors and practices which can contribute to the development of research.
"I'm excited to be appointed to this role, and I look forward to working with the executive and senior management, and the academic and administrative staff of Bahrain Polytechnic." he concluded.
Dr. Jeff Zabudsky said: "I'm delighted to welcome Dr. Haitham to Bahrain Polytechnic. He is a proven change agent with lots of experience in the industry and academia, and I believe he will flourish in this very important role as Dean of Applied Research & Enterprise. On behalf of the Board of Trustees and executive management, I would like to wish Dr. Haitham all the best in his new role."
Posted on 12 November, 2017 in News