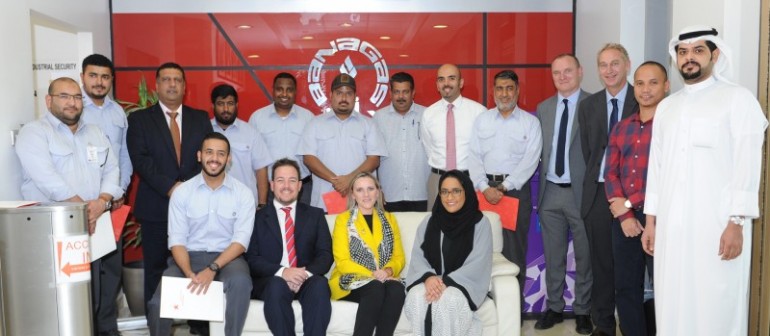 Bahrain Polytechnic represented by the Logistics and Maritime Tutors and Members of the Chartered Institute of Logistics and Transport (CILT) have awarded the nine trainees whom have successfully passed the post training assessment on 'Effective Warehouse Operation'.
The training was geared to the needs of BANAGAS, where the staff were introduced to the best practices of Warehouse Operations, this training and exercise was made to prepare the staff involved in the warehouse facility to effectively manage the new warehouse facility at BANAGAS.
The course was presented by two tutors from the Logistics & Maritime Programme at Bahrain Polytechnic, Mr. Efce van Heerden and Ms. Lorraine Cowley, where they presented various topics in the field of logistics, such as warehouse principles, managing inventory, storage and handling of materials and controlling stock.
The course counts as a single unit module from the Chartered Institute of Logistics and Transport (CILT), for which a unit certificate is given upon successfully passing the assessment. This will then count towards receiving a CILT qualification, should the learner carry on with a full professional qualification later in their careers. It is important to note that Bahrain Polytechnic is the only higher education institution to offer the CILT qualification in the Kingdom of Bahrain.
The training course included a pre-and post-assessment to measure the understanding and the level of learning achieved throughout the 20-hour training, which concluded with CILT examinations.
The training was split upon two groups, the groups were introduced to the best practices in warehouse management, this is with an aim to apply the knowledge received during the week using problem based learning methodology, and in the end of the training, the groups were gathered with the management at BANAGAS to reflect on the ideas presented by the staff.  The exercise was meant to allow the staff working in the warehouse unit to make a collective decision on how to arrange and manage the new facility.
Commenting on the offering, Sh. Faye Al Khalifa, Head of the Commercial and Community Initiatives at Bahrain Polytechnic said: "At Bahrain Polytechnic, we pride ourselves with the wealth of knowledge and experience that our faculty has, and we aim to share that knowledge not only to benefit the students enrolled at the Polytechnic but to extend our services to the industry whether through standardized or customized training".
"As a higher education institution, we believe that Continuing Education is important for the development of individuals and acts as a refresher for personnel working in the industry, we strive to build a culture that embraces lifelong learning, whether through professional or skill based learning", concluded Sh. Faye Al Khalifa.
Commenting on the training, BANAGAS Materials & Sales Manager Mr. Khalid Al Ruffai said: "The participants have gained knowledge and skills from the course; there will be further cooperation to arrange for similar customized courses with Bahrain Polytechnic in the near future".
Posted on 25 July, 2018 in News