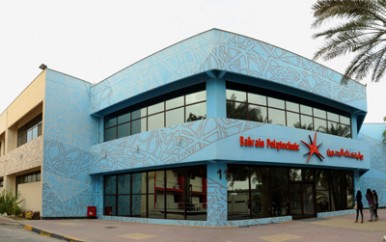 Bahrain Polytechnic, the government-owned educational institution, hosted the 'Graduate Skills Show' at its campus on June 30th, a project where students had the chance to market themselves in front of numerous employers from various companies in order to get employment opportunities.
Sixty near graduates had two minutes to present themselves on stage in front of many Human Resource (HR) managers on why they should work at their company. Students spoke of their experiences, achievements and skills during the five-hour event, followed by an individual interview should companies such as GPIC, Standard Chartered Bank or ACK Solutions seek more information from the candidate.
Dr. Chris Coutts, Bahrain Polytechnic's Director of Academic Development commented: "The 'Graduate Skill Show' aims to provide senior students with the experience of how to market themselves, and also to make them aware of employment opportunities once they graduate from Bahrain Polytechnic in the very near future."
The idea of the event is taken from the Angel Investors concept of matching innovators with investors. An 'elevator pitch' is developed by each student to succinctly sell the benefits that they will bring to an employer.
"A picture is worth a thousand words. Students presented themselves to employers from repute companies, rather traditionally handing in their qualified CV with a chance of employers not reading it.
"This technique allows the HR managers to examine and explore the competencies that the students have, making it a more attractive method to provide potential jobs for the students." she concluded.
Many students who performed on stage expressed their gratitude to the Polytechnic, since not only is this a way to develop their technical skills, but their employability skills too.
Bahrain Polytechnic's Acting Chief Executive Officer thanked the visiting companies which took their time to attend the one of a kind event. He also thanked the staff and students for their participation and efforts to keep Bahrain Polytechnic in line with the Bahrain 2030 vision.
Posted on 30 June, 2013 in News