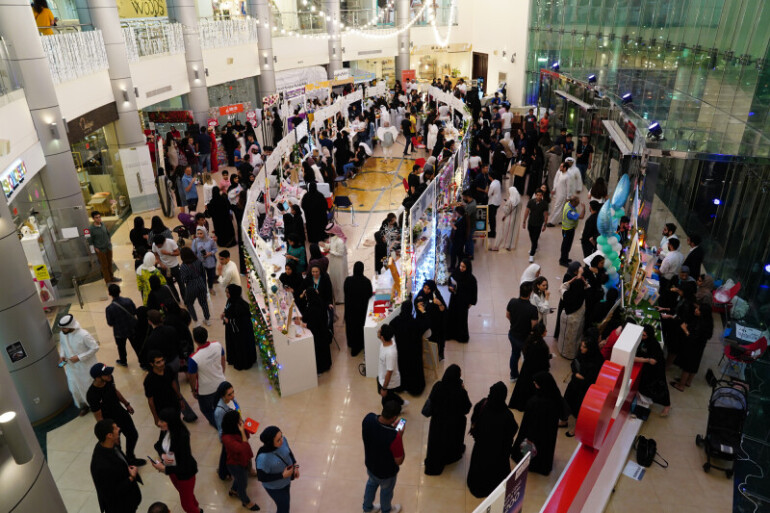 Bahrain Polytechnic hosted the annual Marketing Day on the night of Thursday, 23rd May 2019 at the Riyadat Mall in Aali. Dr. Jeff Zabudsky, CEO of Bahrain Polytechnic, inaugurated the event, where students had the opportunity to showcase their businesses to the public as part of their "Introduction to Marketing" course.
Dr. Zabudsky, accompanied by Deputy CEO: Resources & Information Affairs, Sh. Ali bin Abdulrahman Al Khalifa, toured the exhibition and observed the students as they explained about their products, their marketing strategies, and their feasibility to open their businesses on a larger scale.
Dr. Zabudsky expressed his admiration for the exhibition and the skills demonstrated by the students marketing their products and persuading customers to purchase their products through negotiation and problem-solving. He added that the Marketing Day is one of the fundamental pillars of the Polytechnic's teaching methods, which not only trains them to meet the demands of the labor market, but also to prepare them to be successful entrepreneurs by providing them with different skills.
The CEO extended his appreciation to the participating students and the tutors for working diligently to showcase the quality of the curriculum and methods of education in Polytechnic, most notably our problem-based and project-based learning approach that will help our students to become business leaders.
Dr. Jeff Zabudsky also thanked the sponsors of the exhibition, who contributed to the success of Marketing Day:  The sponsors of the event are Nader Trading, Platinum Sponsors; Ebrahim Khalil Kanoo B.S.C (c), Silver Sponsor; and Box It, Bronze Sponsor.
The idea of the exhibition is for students to follow the steps of developing their business ideas which we teach them at the start of each semester. This includes preparation and implementation of a business and marketing plan, and several other tasks that eventually lead to the final business idea which is expected to meet a customer's expectations.
Posted on 30 May, 2019 in News