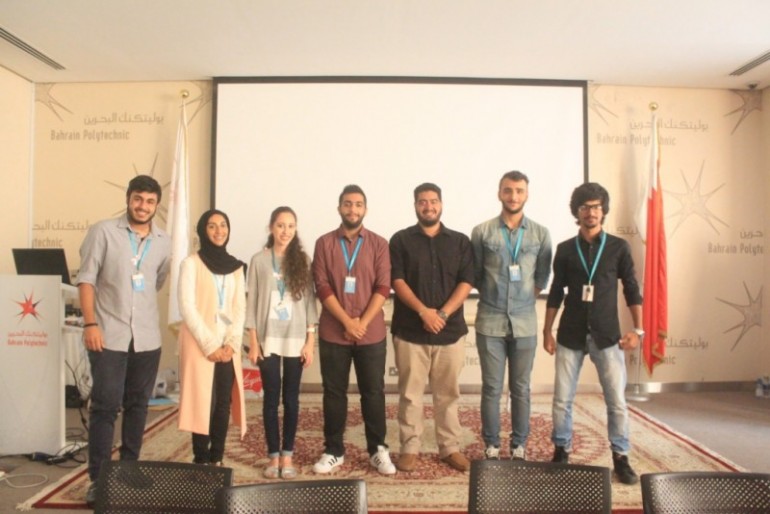 The Board of Trustees of Bahrain Polytechnic approved the official Bahrain Polytechnic Volunteers Club (BPVC) in early October. It is the first official student club at Bahrain Polytechnic, and the first official meeting to elect the Administration Board occurred 29th October 2016.
The BPVC announced and held its first official meeting and the executive board elections where the members voted to choose their official seven representatives.
The meeting was attended by the Acting Director of Student Services and three other members of the Student Services staff to oversee the first meeting, election and related processes. The meeting was attended by 66 of the 111 Club members, who were present to elect the seven positions from the ten nominees. Each of the nominees spoke to the club members before voting.
Following the validation of e-voting, the results and the positions are as the following:
Yasmeen Nabeel Ali Mohamed Allababidi – President
Abdulrahman Ebrahim Ali A.Rahman Alshabbagh – Vice President
Zahra Ali Ahmed Mohsen Shaikh Salman – Secretary
Mohamed Abdulrasool Jaafar Ahmed Alhamad – Financial Treasurer
Ghassan Khalid Ayoub Husain – Board Member
Sher Mohammad A.Haleem Sher M. Ebrahim Balush – Board Member
Mahmood Khalil Abbas Mohamed Sahrab – Board Member
The BPVC Administrative board will be responsible for all registered volunteers and look forward to fulfilling their mandate to support and collaborate with Bahrain Polytechnic Student Council activities while enhancing the students' employability skills Bahrain Polytechnic emphasizes on, and to assist with other events planned in the future.
On this occasion, Acting CEO Dr. Mohammed Al Aseeri stated: "It's great to see the energy and enthusiasm from our students. Our student council has conducted many successful events with the help of the volunteers club, and we intend to keep it that way by forming an official club. On behalf of the executive management, I would like to wish the BPVC Administrative board all the best."
The Acting Director Student Services and the BPVC Administrative Board would like to thank the Acting CEO of Bahrain Polytechnic, Dr. Mohammed Al Aseeri, the Student Services team and Bahrain Polytechnic Student Council members for their endless support in the club's establishment process.
Posted on 10 November, 2016 in News