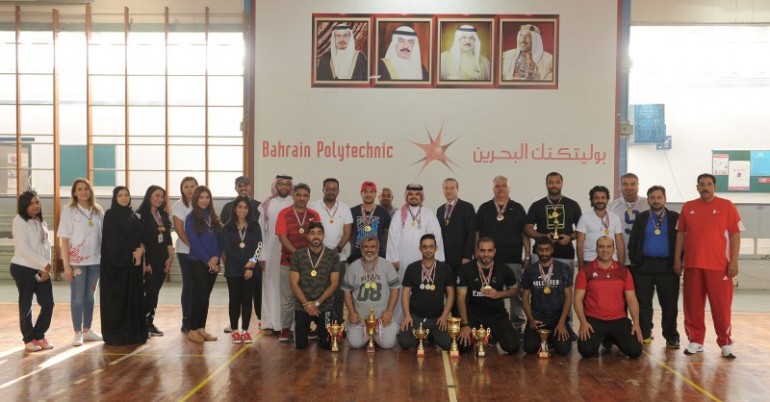 Bahrain Polytechnic organized Sports Day for all staff members at the campus in Isa Town between 12:00 PM to 3:15 PM, to coincide with Bahrain National Sports Day.
Bahrain National Sports Day, organized by the Bahrain Olympic Committee, was created to promote sports and health-enhancing physical activities in the Kingdom of Bahrain. All ministries and government departments have allocated half of the day for sports activities in compliance with the announcement of His Royal Highness the Prime Minister Prince Khalifa bin Salman Al Khalifa cabinet meeting. Bahrain Polytechnic was delighted to join in the initiative with an afternoon of sports activities at the campus.
The half-day event started off with a "group walk" which was actively participated by the Polytechnic's management and staff. This was followed by various sports competitions, namely: Tug of war, relay race, football, volleyball, billiard and table tennis, which enriched the values of friendship and unity among the members of Bahrain Polytechnic.
On this occasion, Dr. Jeff Zabudsky, the Chief Executive Officer of Bahrain Polytechnic, said "Health and exercise is very much encouraged at Bahrain Polytechnic. We have a very impressive Health & Wellness Center which features ladies and men gyms, a multipurpose hall for indoor sports such as basketball, tennis and badminton, and an outdoor football pitch. In addition, Bahrain Polytechnic organized sports days each semester for Polytechnic students and staff to interact and learn about new activities."
He added: "The celebration of the National Sports Day was an opportunity to promote sport and physical activities and instill a culture of sport that recognize the importance of physical activities for the both body and minds among the Bahraini community." he concluded.
At the end of the event, Dr. Zabudsky thanked all the participants and presented medals and trophies for the winners of the different sports events.
Posted on 29 March, 2018 in News