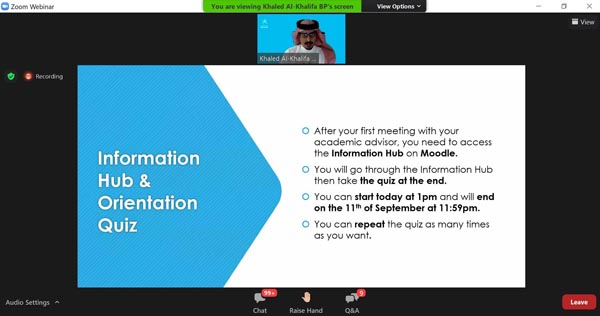 As part of its preparations to welcome the new academic year 2021-2022 on 12th September, Bahrain Polytechnic organized its virtual "Orientation Program" (via Zoom) to formally welcome the new students and inform them about the necessary information that will help them transition into the Polytechnic, whether the student will attend physically or virtually. The program will be held from 5th to 11th September.
During the orientation's kick-off, students were given information regarding academic advising, Moodle, registration information, class schedules, and how to access their student accounts. Additionally, they were presented with Bahrain Polytechnic's mission, vision and values, policies and regulations, rights and responsibilities, and how to report concerns or complaints. All this information can be found in the Polytechnic's newly launched "Information hub", a portal which centralizes all the details required for students to know throughout their years.
Part of the program included showing the students the various facilities that the campus offers, a short introductory video of the Polytechnic, and an entertaining Kahoot quiz session.
Sh. Khaled bin Khalifa Al Khalifa, Bahrain Polytechnic's Director: Student Affairs, stated: "As we prepare to formally receive students on the 12th of September, both physically or virtually, we have equipped them with the necessary tools to help them transition into our programmes and campus life.  We have had a fantastic turnout and interaction during the Orientation kick-off session, as we look forward to another successful academic year."
He continued: "During the week, students will have access to our newly launched "Information hub", which will help our students navigate easily to any information they need as a Polytechnic student. The program will conclude with an interactive quiz to measure the students' comprehension of the program's content."
In conclusion, Sh. Khaled Al Khalifa extended his sincere wishes to all the new and current Polytechnic students for a successful, safe and fruitful academic year, stressing that all departments of the Polytechnic are fully prepared to answer students' inquiries and support them overcome any obstacle they may face.
Posted on 9 September, 2021 in News