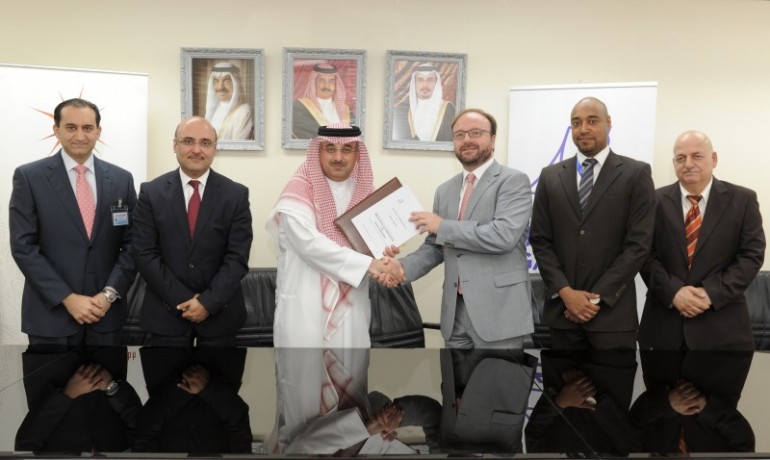 Bahrain Polytechnic signed a memorandum of understanding (MoU) with the Gulf Aluminum Rolling Mill Company (GARMCO) at its headquarters on June 10th 2015.
According to the MoU, GARMCO and Bahrain Polytechnic will work together in order to organize joint initiatives related to education and training programs for students.
Final year students from the School of Business & Logistics, Engineering, and Information & Technology of the Polytechnic will develop industrial projects for GARMCO, as well as receive training and be given job opportunities (full and part time). This will allow students room for expanding their skills in order to adapt to today's labor market upon graduation.
The students' projects will be evaluated by tutors from the Polytechnic to ensure that it's in line with the best academic practices and the requirements of the labor market, including supervisors from GARMCO to assess the students' performance.
On this occasion, Acting CEO of Bahrain Polytechnic, Dr. Mohamed Al Aseeri, stated: "We're delighted to have signed this agreement because of their [GARMCO's] importance in achieving the Polytechnic's Strategic Plan that meet the government action plan 2015-2018 as well as Bahrain's 2030 Vision.
"This will surely have a positive effect on our students." he continued. "With all the developments taking place at the Polytechnic, we are trying to contribute in elevating higher education in Applied Scientific Research, in order to achieve the priorities that the Kingdom aspires to fulfill, being meeting the current labor market requirements locally, regionally, and globally.
"We believe our graduates are qualified to work in a real business environment, as well as starting their own business; an initiative in which we encourage here at the Polytechnic." concluded Dr. Al Aseeri.
CEO of GARMCO, Mr. Jean-Baptiste Lucas, said: "Signing this agreement will link both the corporate and academic sectors together in order to achieve our common goals of serving the Bahraini community.
"The agreement includes many aspects that will contribute to the enrichment of practical, academic, cultural, and research knowledge. It also includes the development of competencies among students and faculty members in terms of applied research. We hope to establish a closer cooperation to contribute to the growth and development of higher education and scientific research in the industrial sector for the youth serving the nation." he concluded.
Posted on 12 June, 2015 in News