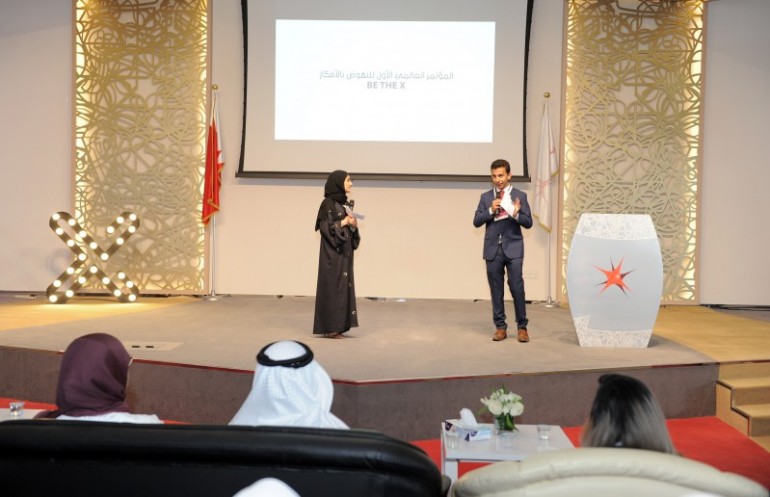 Bahrain Polytechnic will host the 'Be The X' conference on 6th May 2017 at the Bahrain Hall in the Isa Town campus, bringing together prominent speakers from the Kingdom of Bahrain and the GCC to discuss ideas that could empower the society or change the world.
Held under the patronage of Sh. Hisham bin Abdulaziz Al Khalifa, Chairman of the Board of Trustees of the Polytechnic, the conference is organized by the Bahrain Polytechnic Student Council (BPSC) and the Bahrain Polytechnic Volunteer Club (BPVC).
Mr. Hasan Ali Al Tooq, President of BPSC, stated: "The conference targets young people from different backgrounds and age groups in an exceptional environment aimed at motivating the audience to achieve their ideas in a way that serves the society, as well as encouraging Bahrainis to be capable of changing the world, regardless of their background and interests."
He continued: "These goals will be instilled in our youth by a host of speakers from different backgrounds, such as Ali Najim, a radio broadcaster and author from Kuwait; Dr. Fatima Albalooshi, former minister and entrepreneur from Bahrain; Fahad Yaqoot, paramedic; Yaqoob Alnajem, trainer; Fatima Alatawi, fashion entrepreneur; Mahmood Albalooshi, trainer; and Roaya Saleh, chef. The event will be hosted by social media influencer Khawla Al Muraghi.
"Each speaker will present their idea based on their life experience within 18 minutes. We will have activities such as a musical performance by Ali Al Aliwi, lunch, and more.
The activities of the student council did not stop during the organization of this conference, as they continued to serve the students during this time, as well as achieve BPSC's goals in building the skills of the Bahraini youth. BPSC have organized several successful events linked to cultural values during the year.
Mr. Al Tooq thanked the executive management of Bahrain Polytechnic for their support and cooperation, led by Dr. Jeff Zabudsky, CEO; Sh. Ali bin Abdulrahman Al Khalifa, Deputy CEO: Resources & Information Affairs; and Dr. Hasan Almulla, Deputy CEO: Education Services.
He also thanked all members of the student council and volunteer club for their support, adding that he is hoping to meet all the distinguished guests at the conference on the day.
Posted on 15 May, 2017 in News