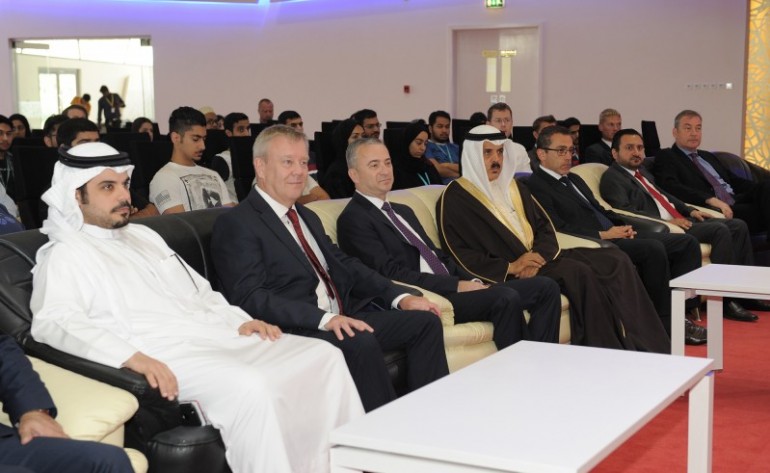 Bahrain Polytechnic is again working with the Ministry of Education, the British Embassy, the British Council and BAE Systems to host a series of workshops aimed at more than 600 Bahraini students to promote the critical importance of STEM education for the country and its youth's futures.
The opening ceremony for the STEM workshops was held at the Bahrain Polytechnic campus on 8th May 2017, with the presence of H.E Dr. Majid bin Ali Al Nuaimi, Minister of Education, the Polytechnic executive management, and representatives from the British Council and BAE Systems.
Taking place at Bahrain Polytechnic, students from a mix of private and public schools will explore 'Sport and Technology', examining how cutting edge technology and engineering solutions can help athletes achieve international sporting excellence. 
The education sessions, which started yesterday, will continue until Thursday May 11th.
The workshops, a continuation of an existing programme, have successfully reached thousands of Bahraini students across the country since launching four years ago.  The programme has been credited with a 300% increase in Bahrain Polytechnic's admission applications for STEM-related programmes.
Bahrain Polytechnic's CEO, Dr. Jeff Zabudsky, stated: "The STEM workshop programme is an excellent way to provide more career options for the Bahraini youth. These workshops were conducted in a practical manner, similar to how the Polytechnic teaches its students, and I believe this interactive learning approach will help promote STEM related subjects and its importance among the youth. We have hosted this workshop in the past at our campus, and we hope that it continues to be a success to benefit the future generation of the Kingdom."
Alan Rutt, British Council Director has mentioned that: "The STEM project is an extremely important educational project which the British Council has been supporting since its launch in 2014. We are proud that we have engaged thousands of students from governmental and private schools. Our objective is to inspire them to plan well for their education and career path which would definitely have a positive impact on the Kingdom of Bahrain's economy development."
Students participating will see real life examples of how engineering skills are successfully applied in various sports including taekwondo, sailing, and triathlon. They will also experience practical challenges themselves. The technology exhibits on display at the event will include virtual reality headsets used by Olympic triathletes, Olympic taekwondo equipment, along with a bone conduction communications system for a sailing helmet.
Posted on 15 May, 2017 in News