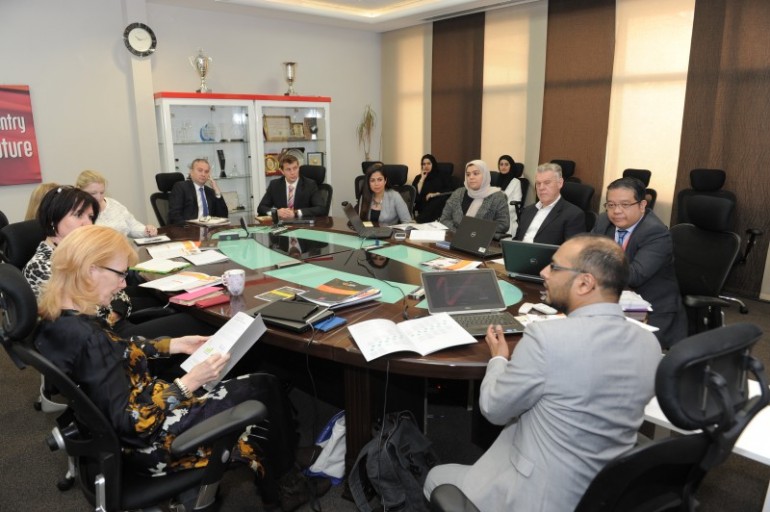 As part of a recently signed Strategic Partnership with the Higher Education Academy (HEA), based in the UK, Bahrain Polytechnic hosted a three-day workshop with Mr. Rajesh Dhimar, HEA Academic Development Advisor, to visit the campus to provide consultation and support services regarding professional development courses that it has put forward for accreditation.
The HEA is a non-profit professional institution which fosters excellence in higher education. It is a major proponent of evidence-based teaching methods and awards fellowships as a method of professional recognition for university teachers. The HEA is responsible for the UK Professional Standards Framework (UKPSF), a nationally-recognized scheme for gauging success and excellence within the higher education teaching and learning context.
The HEA support higher education institutions with an emphasis on improving the student experience. The HEA also works to provide consultation across the higher education systems on a global scale to advance the quality of teaching and learning.  The HEA awards accreditation to programmes in higher education, nationally and internationally, as well as providing professional recognition to academic staff through HEA fellowships.
During his three-day visit, Mr. Dhimar facilitated intensive workshops, meetings and discussions with the Bahrain Polytechnic HEA accreditation team to provide them with significant insights that would aid in the final steps of having its Certificate in Tertiary Teaching and Learning (CTTL), Post-Graduate Diploma in Teaching and Learning in Higher Education (PGTLHE) and its Continuing Professional Development Direct, Experiential route process recognized by the HEA.
Mr. Dhimar also conducted workshops on mentoring, as well as guidance for those who are interested in applying for fellowships.
Posted on 29 March, 2018 in News