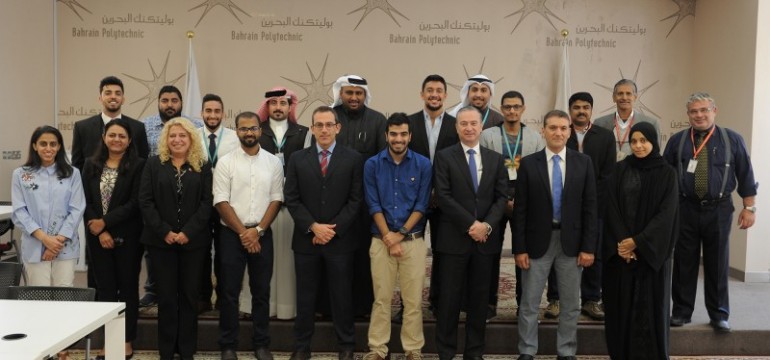 On 18th January 2018, Bahrain Polytechnic's School of Engineering hosted the Poster Presentation Day for the Students' Final Year Projects demonstration which have developed during this semester.
The Students have been working in collaboration with field engineers through all their project development in order to ensure the functionality and validation of their results. Dynamic Services, Garmco, Trust Re, ASRY and Ministry of Interior are some of the companies that have provided the final year engineering project topics for this semester, while the Engineering School has also active collaboration with more than 30 companies in Bahrain regarding various work- integrated learning activities. Research projects have been developed as well in renewable and clean energy applications design and testing.
Dr Christina Georgantopoulou, Head of the Engineering School commented: "Mechanical and Electronics engineering students have presented their proposed solutions and innovating designs in real – life problems or applications respectively.  Each Student has received his/her project by Senior Engineers that they work in leading industries of Bahrain".
The Chief Executive of Bahrain Polytechnic, Dr Jeff Zabudsky had attended the event and discussed with the students their projects' ideas implementation and potential further development.  Dr Haitham Alqahtani, Dean of Research and Enterprise, Dr Christakis Papageorgiou, Dean of EDICT and Dr Christina Georgantopoulou, Head of the Engineering School have also presented at the event and they have mentioned that the level of the engineering final projects is quite promising for innovative and efficient industrial applications and procedures.
Posted on 29 March, 2018 in News